Detailed Review of PartyBets.com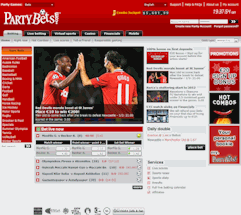 PartyBets.com is the sports betting arm of the Party network which also includes PartyPoker.com, PartyCasino.com, PartyGammon.com and PartyBingo.com. It is possible to open an account at any of these five websites and then use the same log in and account balance for the other four. This makes PartyBets a great choice for anyone who enjoys both sports betting and at least one other gambling product of poker, casino, backgammon or bingo.
If you've never had an account at PartyBets.com before you're eligible for a 100% up to €20 initial deposit match bonus just for registering. Additionally if you give their financial betting a try you can claim an extra €15 bonus. The opening account offers can be used in such a way it is impossible to lose on your first attempt.
Opening Account Intricacies
There are few quirky intricacies worth mention prior to getting into the heart of this PartyBets.com review.
Registration Errors: Quite surprising for a company their size, there is quirky error that affects a small number of visitors looking to open an account. The specific is the "register" and "join now" buttons all functions as javascript popups. If your browser has popups blocked, or javascript disabled the registration button might not work. So be sure to add their website to your whitelist for popups, and make sure javascipt is enabled.
Security Verification: At some point or another, your PartyBets account is likely to be briefly locked for a security review. At this time you'll be asked to upload a scan of a photo ID and utility bill to their website. As this can potentially happen at the least opportune time, we advise you to upload these documents straight away after registering an account. Also if you're ever in need of fast verification, so long as you have these documents upload their live website chat support can help with this in 5-15 minutes turnaround.
Restricted Countries: Players located in Bulgaria, China, Hong Kong, India, Indonesia, Iran, Israel, Malaysia, South Korea, Taiwan, Tanzania, Turkey, United States and Yemen are prohibited from making real money wagers at Partybets.com. Unfortunately their website does not tell you this upfront and you'll be able to go through the entire registration process and then when clicking the cashier discover this fact. Those living in Asian restricted countries should refer to our page on Asian bookies while others should view our page on US betting sites.As I'll cover later in this Partybets.com review, Party is owned by the world's largest publicly traded online gambling firm, and is one the most financial secure gaming operators in the world. This is very safe company to wager with, but I figured I'd just mention the small intricacies upfront.


Wagering at PartyBets

The wagering options are PartyBets.com are quite impressive. Here you'll of course find all the most popular football (soccer) betting options from across the globe including English Premier League, Spanish La Liga, Italian Serie A, German Bundesliga, Poland Ekstraklasa, Romania Liga I, Russia Premier League, Scotland Premier League, Switzerland Super League and dozens of others. Of course you can also find African Nations Cup, Champions League, Club Friendly Matches, Euro 2012, Europa League, World Cup 2014 and plethora of additional tournaments. No matter where you live in the world, PartyBets.com has you well covered with football matches available for betting. The same is however also true for other sports.

PartyBets.com has a complete wagering menu that includes Snooker and pool, as well as darts (including the BDO Women's World Championship), Cricket (HRV Cup, The Ashes, Sheffield Shield, and World Cup Cricket – amongst others), Volleyball leagues from Germany, Russia, Italy, and Poland and winter sports like the Biathlon and Alpine Skiing. These go along with other popular sports such as horse racing, tennis, basketball, baseball, hockey, golf, American football, motor sports including Formula 1 and NASCAR as well as rugby, badminton, handball, Olympics and so much more.

To provide an idea of how friendly PartyBets is to international clients, one of their available account currencies is Japanese Yen and they offer betting on Nippon Professional Baseball (NPB). They also offer accounts in Canadian Dollars and accept bets on CFL football, and of course NHL hockey. You can access the PartyBets.com website in English, German, Spanish, French, Romanian, Greek, Russian, Italian, Polish or Swedish language and wager in EUR, GBP, USD, CAD, or JPY currencies.

Wagering Tips

PartyBets.com is a strong candidate for the strategy I covered on my article on removing vig from soccer odds. Here you'll find a fair number of off market prices, so if you know how to both handicap the fair market price and shop odds you'll find plenty of value bets here. However with that said, PartyBets is largely a recreational gambling site and likewise will impose limit collars on players always beating them to line moves or only betting off market prices. Be sure to pick your poison carefully as there is tons of great value here on props and alternate odds, as well as hot accumulator promotions. Considering PartyBets.com is owned by the largest publicly traded online gambling company in the world, and is safe and secure with a spotless track record for timely payments this is place you'll want to keep an account with long term. Also Party will take MASSIVE stakes so long as the account appears recreational.

A Tip for Recreational Punters

From the top menu of the PartyBets website you'll find a link which reads "Hot Combos". Click this and you'll find recommended accumulators where PartyBets is offering increased the payouts. In some cases a treble accumulator that would normally pay 2.27 is paying 2.50, or one that normally pays 2.94 is paying 3.20, meanwhile you might find a double that normally pays 1.68 on two large favorites and is now paying 1.80. These wagers are nearly always available on very heavy favorites and win quite often with larger payouts. Also to note: Hot combos always involve a single league. For football leagues available include Spain Primera División, Italy Serie A, Germany Bundesliga and Champions League. Some options for other sports include European ice hockey, NHL Hockey, Italian Volleyball, and Spanish Basketball.

Other Things I Like About PartyBets

PartyBets has solid live betting coverage with often 8 matches available for in-play during off hours. Also an A+ mobile betting clients, occasional promotions such as added free plays and a very neat monthly combo bet jackpot which grows quite large and can sometimes make accumulators +EV. Overall this is a solid sports betting site for recreational punters while professionals picking their poison correctly can still squeeze some decent profits here.

PartyBets Banking Options

Bettors from a number of different countries are welcomed to open accounts at PartyBets.com. Whether you are from Germany or Canada, the United Kingdom, Belgium, Greece, Spain, Brazil, Austria, or Norway – you have several ways you can deposit, bet and be paid. Party Bets takes several different major credit cards, as well as a wide selection of e-wallets, wire transfers, bank drafts, and prepaid cards for deposits. They also present numerous options for quickly cashing out winnings. Most wire transfers are executed within 24 hours of the request for funds. Other methods of cashout, which includes checks by mail (7-20 business days on average), and e-wallets (PayPal = 2 to 6 hours for processing after approval) vary by country and the average time for receiving your funds will also vary slightly depending on where you live. However, when you bet with Party Bets, you can rest comfortably knowing that you will be paid in a very timely manner.

To conclude this partybets.com review I'll discuss their parent company, as this should help show how well financially secure and trustworthy the PartyBrands are.

PartyBets is Owned by Bwin.Party

PartyBets.com is the sports betting website brought forth by an absolute giant in the online gambling industry – bwin.party digital entertainment plc. As you might be able to guess, the company behind the scenes is the result of a monstrous merger between Bwin Interactive Entertainment AG and Party Gaming plc. This merger made the company the largest online gambling conglomerate to trade publicly, as bwin.party is listed on both the London Stock Exchange and the Vienna Stock Exchange in Austria.

Bwin.party brings years of experience and numerous well-known brand names to the table. Included in their portfolio of real money gaming sites under ownership are the likes of bwin, which primarily focuses on the Europe and South American markets, Gamebookers, Party Poker, Party Casino, Party Bingo, Foxy Bingo, and Italian bingo site Gioco Digitale. They also own the World Poker Tour, as well as financial betting and trading site InterTrader.com. Both individually and collectively, the brands under their management are exceptionally well-established and highly recognizable at all corners of the globe.

Financially speaking, the company is quite sound and possesses a huge market share. In 2010, bwin accepted an average of 1 million bets per day on various sporting events. This amounted to over €258 million in revenue through the sports betting businesses. The company also brought in €241 million and €226 million in revenue respectively through their casino and poker businesses, whilst accumulating €71.3 million from their bingo ventures. Broken out by countries, 23% of their business came from Germany, whilst 10% flowed through Italy and 6% of their revenues came from the French market.

As you might suspect, a company of this size requires experience to run properly and bwin.party brings a wealth of experience to the table in their board. Simon Duffy serves as the Chairman of the board and has held this position since the two companies completed their merger at the end of the first quarter of 2011. His expertise comes from managing telecom, tobacco, and media companies that include Imperial Tobacco Group, Guinness plc, as well as Virgin Media Group.

Bwin.party operates with a cooperative of Chief Executive Officers that report to Duffy, as each brand brought forth their CEO on completion of the merger to steer the company. Jim Ryan, who has been the CEO of Party Gaming since 2008, and Norbert Teufelberger, the CEO of bwin since 2001, serve as Co-CEO's of the company.

Ryan draws on his experience in the online gambling and software industries, as he previously served as CEO of Excapa Software and CFO of Cryptologic prior to his stint with Party Gaming. Teufelberger began in 1989, working on the land based casino side of the equation prior to being tapped as an exec with bwin. He was largely responsible for steering the company to being listed publicly and has been an executive with bwin since 1999.

In addition to a wealth of experience and a strong brand presence, Party Bets brings integrity to the table. All activity conducted through Party Bets is licensed and regulated through the UK Gambling Act of 2005 and the Government of Gibraltar. PartyBets.com is highly rated on near all honest industry review portals and you should have no qualms about funding an account at any bwin.party owned online gambling site including PartyBets, PartyPoker, PartyCasino, PartyGammon and Party Bingo.