Warning About Online Sportsbook www.SBGGlobal.com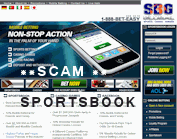 SBG Global is one of the oldest offshore sportsbooks having been established in April 1999. They are currently rated D+ on our sportsbooks rating guide. Over the past couple years the number of complaints about them hitting forums has been low. Perhaps they are now better than they were in the past, or perhaps most players have heeded the warning not to use them.
There are certainly a considerable number of SBGGlobal scam warnings floating around the web. Long time industry watchdog SBR (Sportsbook Review) has them rated D- which is near their scam level, and has archived many past SBGGlobal complaints. In this article I will recap some of those. First our advice is that any very extremely dedicated advantage players might still want to hit this site up for a bonus, or for betting small on any soft lines they offer. They are not in the D to F range where getting stiffed is more certain, and they do issue payouts to most players. The risk of having issues probably makes them not worth it for everyone else. Alternatives can be found in our extremely detailed article on US betting sites (a must read for those new to betting online from the US) or by using our sportsbook ratings.
SBGGlobal Complaints
SGBGlobal scam warnings go back about a decade and a half. Sportsbook Review was simply a web-log of player/sportsbook disputes from other forums back then not having a their own forum, reviews, odds feeds, tools or any of that when on September 17, 2001 (13-years ago!) they placed them on the run list (about today's equivalent of a D- or F rating). SBG did work their way back up to D+ and were rated this from 2004 to 2006. That changed in 2006 when a serious rash of complaints began to spawn. The bulk of what I am about to recap is as reported by SBR on their SBGGlobal Review page and our own additional research from forums.
It appears from 2006 on, the most common accusation that players were being scammed involved SBG Global allegedly confiscating account balances of winners who had an account with one of their sister sites. Today, their company owns two additional brands BetRoyal and Sports-Gambling, but in the past had others too. The allegation is that in their "too many words to read terms and conditions" they included small print that stated players were prohibited from having more than one account at SBG Global networked sites; listing the other sites this applied to. Many bettors were unaware of this term. From here SBG Global is said to have freerolled… meaning, anyone who lost was free to continue wagering. Anyone who won had their deposits refunded to them and told their winnings are void because they broke the duplicate account rule.
Rule 106-B Winners Not Allowed?
Articles about the alleged SBG freeroll scam caught on and the company stopped enforcing that rule. They however then added a wiseguy rule which made it against the rules for professional players to use their site. This is the type of rule other sportsbooks have used to steal from players using their own discretion to enforce vague terms. Complaints about SBGGlobal regarding this rule, started to flow in. In June 2006 one complaint involved a better who said he deposited $10,000 and ran it up to nearly $29,000 betting steam on NHL hockey. SBG Global told Sportsbok Review they "zeroed his account because he is not someone we wish to deal with". From here it took almost three months of bad press to get back only the $10,000 he deposited back, while the winnings remained void.
In August 2006 there was a complaint that claimed SBG Global confiscated $3,000 from a player for being too sharp. In November that year a player reported having his account balance of $56,000 zeroed out. After much complaint he was given a onetime take it or leave it offer of $21,000, while another player reported having $13,500 zeroed, and yet another reported having over $100,000 confiscated late into that same month. You can visit the linked to SBR reports to see the madness of it all, but the company continued to rack up complaints in 2007, and in 2008 cumulative complaints alleged over $1 million USD total had been voided from player accounts.
Scam Targeting Smaller Bettors
In addition to there being alleged scamming of big winners, SBG Global did wrong average players involved in Formula 1 betting as well. In 2009 they had preseason F1 future odds of Jenson Button winning the championship at 70:1. After Button won the first 2 races, SBG Global voided wagers (later offered to adjust to 10:1) citing gross human error. This was absurd because other sites were offering around 50:1 on this future and 70:1 was not an obvious line error.
There are other betting sites that have used this tactic routinely. Bump the payouts on a big underdog extremely unlikely to win with no intent to pay if it does. Most times they upset no one, but the times the big underdog does win they get to keep 100% of the bets they took on that market, less mere refunds to the winners, by claiming it was a bad line. This is one of the oldest old school betting scams in the book and intentional (as it most likely was) or not (as it most likely wasn't), this is was an unethical business practice SBG Global was involved in.
Other SBG Global Complaints
Going back even further, years ago there were forum posts about players losing their balances following a radio handicapper. After a hot streak, there were complaints that SBG accused these players of being part of a "betting syndicate" and zeroed their accounts. One player in this situation claimed to have had a balance of 80,000 dollars and there are no reports that any of it was ever paid. A quick Google search of "SBG Global Complaints" will turn up much more than what is covered in this article.
Slow Pay Complaints
The last real negative news from SBG Global came in May 2012 when there were a number of mid five-figure slow complaints. Press hit the forums over this and some were predicting this would be their end. That however turned out to be premature as within days of the bad press starting all players were paid. Prior to that they were running well for about 1-year too, and all books do sometimes have processor issues.
Current Status
SBG Global obviously has a poor reputation around the web. Of course, there is however no reason at all for them to be stiffing what appear to be recreational players cashing out small amounts. In this case they make a payout and then later get the player back, he loses many more deposits and they profit from those. Now there is risk always of a book disappearing, such as when BetIslands closed while holding over $1.5 million in player balances. But SBG has been around for a long time and the risk of that is smaller. They are rated D+ because this gives enough warning to players in hopes they research them, while still not putting them in the no pay range as this is not where they have belonged for a while now.
However, our opinion is that where there is smoke, there is mostly likely at least some fire. The majority of the smoke has come involving complaints with players who ran up large balances. This means if you decide to use SBG Global, our advice is to not bet any large parlays, large future bets, or anything else that could see your balance swell to a significant figure. If you play here keep it small and do straight bets or moneyline favorites, while avoiding the rest.
Be Careful of Affiliate Portals
In closing SBS reminds that there are several websites paid large commissions or advertising rates to promote less than reputable sportsbooks. An example until very recently was TheRX.com who for many years listed SBG Global at #2 behind EZStreetSports who we view as being scammers. Such recommendations are simply bought and paid for advertisements. Do your research and take anything found on review portals with a freight load of salt.