SportsBettingOnline.ag Review
Sportsbettingonline.ag is a new sportsbook that targets U.S. players. SBS initiated their rating as D- on May 30, 2012 and is suggesting players avoid or use great caution when dealing with this book.
It was a borderline-spam post made on a forum in early May 2012 that drew our attention to this brand's existence. At the time we discovered their website was operating on the servers of perhead.com then known in the industry as BetEagle. How pay per head (PPH) services generally work is there is a marketer/agent that settles the accounts, while website and phone-in betting is serviced by the PPH. In some cases, these operate as full white labels, meaning completely turnkey where the marketer markets, and the PPH does all else.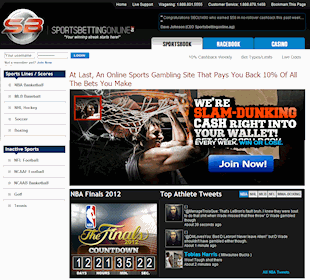 It was immediately clear that Sports Betting Online had a unique set up. Other perhead.com powered sportsbooks such as beteagle.ag, yopig.ag, wagerhall.ag and actionbets.com didn't accept online sign ups. To get an account with these sites you needed an agent. Most often agents are located in the United States and can be found various places such as sports bars, cigar shops and the like. Bets are settled in cash, and the website and phone shop located abroad are used for easier processing. At Sportsbettingonline.ag there is actually a "join now" button, and live chat. There's also no mention they are powered by perhead.com. Our research did however show they were sharing the same IP address as other perhead.com powered websites.
While normally we would not rate a start up so quickly, or would give them a C- to D+ depending on facts, this one appearing so often on forums made us decide to take a closer look.
Back in May the first cause for concern was the fact their website was hosted in Florida, USA, where sports betting is illegal. This however appeared to just be where the service provider perhead.com had their server. When checking their about us page we spotted they listed their location as San Jose, Costa Rica. Considering Costa Rica does not offer sports betting licenses, this likely means Sports Betting Online is unlicensed. This in itself is okay as many highly legitimate betting sites such as Bookmaker and 5Dimes also run unlicensed from Costa Rica. However, here we were looking at brand new site with no track record.
The next thing we noticed is Sports Betting Online had no address posted on their website. You see Bookmaker and 5Dimes operate from large buildings. Everyone involved in sports betting from Costa Rica knows where these companies are physically located. Here we had a new brand hosted in the US and only words on a website claiming the city they were located. How do we know they're much different than these guys who used a website on the same server. We had no verifiable information, nor did we know of any employees. At this point we initiated their rating at D- pending further research.
Dave Johnson
Shortly after SportsBettingOnline.ag caught our attention their website became plastered with the name Dave Johnson. You can learn more about him on our page on WagerWeb.com complaints. He was the CEO of Casablanca Gaming from 1999 to 2012. This company started off as BetCBS.com. After long legal action from the US media conglomerate CBS Broadcasting Inc. they were forced to change their name to WagerWeb in November 2004. Dave Johnson was all over betting forums for over a dozen years representing these brands. During that time he made many decisions player advocates and legit watchdogs disagreed with. His companies were often accused of bonus scams, and voiding lines and even admitting they would have kept the funds had certain bets they voided lost. His name was still signed on all WagerWeb letters up until early 2012, but he had literally run this brand to the ground much earlier than that.
For some reason Dave Johnson must of thought it would be a good idea to feature his name all over the sportsbettingonline.ag website. Once it was discovered he was running this site, several watchdog sites initiated Sportsbettingonline.ag ratings giving them a low score. He perhaps got the message: as of October 2012 his name now only appears on their about us page as being the head lines man. Note: SBS had this sportsbook rated D- prior to Dave Johnson making it known it was his show.
While their website is now actually hosted in Costa Rica, no longer Florida USA, and they have picked up a few affiliates to market them, it is still probably best to avoid this company. They do run some good bonuses and promotions and have a history of refunding stakes on bad calls and shocking bad beats. However, with all the companies out there without negative history attached, it is probably best to use our sportsbook ratings to find a higher rated alternative.