Detailed Review of Stan James Betting Site StanJames.com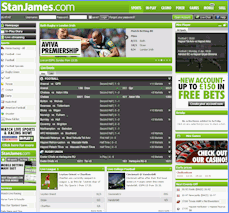 StanJames.com is an online gambling website that offers sports betting, horse race betting, and casino, poker and skill games all accessible from a single website and player account. Although their primary markets are UK, Ireland, Canada, Spain and Greece their company is also hugely popular in Turkey, Israel and Australia and is Asian friendly as well. In fact, included in their list of some two-dozen currencies supported is Hong Kong dollar (HKD), Indonesian Rupiah (IDR), Malaysian Ringgit (MYR) and Singapore dollar (SGD) to go along with most all European currencies.
As you'll learn in the conclusion of this stanjames.com review – the company operating this website is highly reputable. They were founded in 1973, own 65 betting shops in the UK, are licensed and regulated by Gibraltar's GRA and are registered with the leading player/bookmaker adjudication service IBAS. Having established stanjames.com is reputable and legitimate; I'll now cover betting with and using their website, before concluding with the history of Stan James Bookmaking.
Betting Sports with Stan James
The first thing worth mentioning is players residing in United Kingdom, Ireland, Greece, Spain, Canada, United Arab Emirates, Monaco, South Africa or Cyprus are welcomed to Stan James with an impressive £150.00 free bets package. This generous offer is progressive and not at all difficult to earn. Full details can be found at www.stanjames.com. If you live in a country other than the nine just listed, there is still a £100 Casino bonus and $500 (USD) poker bonus available.
While bonuses are nice, what I personally like best about Stan James is their vastly diverse markets, in-play live betting, and their high functionality mobile betting client. Regarding variety, because Stan James is friendly to so many countries you'll find a vast number of sports and leagues covered. The sports which are available for wagering include Horse Racing, Football, Rugby Union, Rugby League, Golf, Tennis, Cricket, Darts, Basketball, American Football, Snooker, Greyhounds, Athletics, Aussie Rules, Baseball, Beach Soccer, Volleyball & Beach Volleyball, Bowls, Boxing/MMA (including UFC), Cycling, Cyclo-Cross, Futsal, Gaelic Football, Handball, Hockey, Hurling, Ice Hockey, 2012 Olympics, Motorsport (including F1), Skiing and Squash.
Football Coverage
Stan James markets for each sport is incredibly vast. For football (soccer) you'll find the five majors in English Premier League, Spanish La Liga, Italian Serie A, German Bundesliga and MLS from the US but it doesn't even come close to stopping there. www.stanjames.com is a very popular betting site for those residing in Israel and as a result you'll find vast Israeli Premier League and Israeli Leumit League coverage. The same is true for Turkey and here you'll find a plethora of in-play betting opportunities on Turkish Super Lig.
You'll of course also find football leagues from all countries including but not limited to Australian A-League, Chilean Primera Division, Czech 1. Liga, Danish Superligaen, Finnish Veikkausliiga, French Ligue, Greek Super League, Mexican Primera Division, Norwegian Eliteserien, Polish Ekstraklasa, Portuguese Primeira Liga, Romanian 1st League, Russian Premier League, and Swiss Challenge League. Of course you'll also find regional UK leagues such as Evo-Stik, Ryman League (Isthmian League), the npower leagues, Blue Square and so much more. Not to mention all the national, regional and world competitions as well.
Stan James Coverage is Diverse
The diversity I illustrated in the football (soccer) section applies to all other sports as well. For example for basketball you'll not only find NBA and NCAA from America but also NBL from Australia, TBL from Turkey, LNB from France, ACB from Spain, and VTB United League games, to name just a small sample of what Stan James offers. For cricket you'll of course find UK domestic, Indian Premier League (IPL), all the major tests series, ODIs and Twenty20. For tennis you'll find betting offered on all the grand slams as well as plethora of domestic and international competitions. No matter where you live in the world or which sports you prefer you should find www.stanjames.com has you well covered. They also make betting fun with some 50+ markets on most matches.
In Play Betting with Stan James
Stan James is largely considered a pioneer to live in-play betting. Back in 1994 they began offering in-play betting for Golf via their brick and mortar and phone in betting shops. When they eventually moved to the internet in 2000 this was expanded greatly. As I'm writing this stanjames.com review there are 187 matches scheduled to have live betting for just the first week of January 2012 alone. 94 of these are for football (soccer) and the break down is 7 from Australian A-League, 15 from Barclays Premier League, 3 from Blue Square Premier, 3 from FA Cup, 7 from Israeli Premier League, 2 from Italian Serie A, 2 from Italian Serie B, 1 from Japanese Emperor's Cup, 6 from Moroccan Botola, 8 from npower Championship, 5 from npower League 1, 3 from npower League 2, 4 from Portuguese League Cup, 2 from Portuguese Primeira Liga, 3 from Qatari Stars League, 1 from Scottish Cup, 3 from Scottish Premier League, 2 from Spanish Copa Del Rey, 2 from Spanish La Liga, 13 from Turkish Super Lig, and 2 from Welsh Premier League.
To cover the break down for the other sports they offered live in-play betting for the first week of January 2012, I'll continue. Here we also had 13 NHL hockey matches, 10 American football matches (8 NCAA / 2 NFL) and 27 basketball matches. The basketball offers were quite diverse with 4 coming from NBA, 2 from Australian NBL, 9 from NCAA college basketball, 5 from the Philippines, 3 Spanish ACB basketball games, one Turkish TBL match, and 6 VTB United League games. We also had 8 Rugby Union Matches which broke down as 4 Aviva Premiership, 1 Rabodirect Pro 12, and 3 top 14. From here we saw 15 cricket matches of which nine came from tests, six from KFC Twenty20, followed by live betting on a single snooker event (PTC Germany), a single Super Middleweight boxing fight, and the World Professional Darts Championships. Last but not least there was live betting offered on 4 PSA Word Squash matches, and 12 tennis matches which broke down as 7 from ATP and 5 from WTA.
Keep in mind this vast diversity shown in live betting at Stan James used only the first week of January 2012 schedule. There are far more markets other times of the year. We also didn't even touch on the plethora of ways there are to wager each match while it is in-running. To see this yourself visit www.stanjames.com where after one look you may very well be convinced Stan James is a work leader of live in-play betting.
Mobile Betting with Stan James
Stan James also makes themselves accessible to those on the go. Their mobile betting site supports iPhone and the Android platforms and also has apps for Blackberry, Nokia, LG Smart Phones and others. In order to get and save the Stan James iPhone betting app, simply visit the Stan James website and choose "Add to Home Screen". With the proper mobile betting app, you can access your account, deposit, cash out, look at betting lines, and place bets at will. In fact, you have all the same functions available via your mobile phone that you have when visiting the Stan James website using Microsoft Internet Explorer, Mozilla Firefox, Google Chrome or any other computer or laptop based browser.
Sports and Sports Betting Information
Stan James provides an abundance of information that you can use in deciding who to bet on and when to bet them. On their website, you can find all kinds of different sports statistics. Whether you are looking to check the "away form" of Florentia's Serie A1 Italian Water Polo squad or trying to figure out which 1a Divisao Portuguese Futsal side to bet based on the first half performance only – you can surely find the stat you are after right on the Stan James website. You can also compare results against different league opposition with their extensive stats platform. For example, you can learn how the Grasshoppers perform against other Swiss National League Floorball teams.
In addition to comprehensive stats, you can find tips on betting, as well as match commentary and even live sports commentaries when you are a customer at Stan James.
The History of Stan James

In 1973 Stan James was founded as a single betting shop located in Compton, Berkshire (in South East region of England, UK). There was no actual person named Stan James behind the company; this is rather a corporate name that was derived from the first names of its three founders Steve Fisher, Ann Fisher and James Holder. The first two letters of Steven and Ann were used to form Stan while Holder's first name was used for the James portion. James Holder would later leave the company while the Fisher family went on to expand the operation which grew to as large as 65 UK based betting shops.
In 2000, Stan James was one of the first high street bookmakers to embrace the internet launching www.stanjames.com. Since this time their primary operation focus has been their telephone and online divisions which are now headquartered, licensed and regulated from/in Marina Bay, Gibraltar. Their company still does own live UK betting shops and for this division they have a corporate office in Abingdon, Oxfordshire, England. Steven and Anne fisher still own the company today (2012) while their two children Peter and Diane Fisher are also involved in the operations and are part owners. The current CEO is Denis Kelly and Bijan Kherzi sits as chairman of the board.
Stan James has done well acquiring new players via increased brand awareness that came through sponsoring sporting events. From 2000-2010 they spent 10-years as the official sponsor of World Matchplay, an annual darts tournament held in Blackpool, Lancashire, England that is ran by the Professional Darts Corporation (PDC) and now sponsored by Skybet. They also sponsored numerous horse races including the opening leg of Britain's Triple Crown, the 2,000 Guineas Stakes and also the King George VI Chase. In recent years they've been involved in a partnership with Queens Park Rangers FC which is now in the Premier League. Stan James' roll has been introducing betting kiosks to their football stadium Loftus Road, which is located in Shepherd's Bush, London. Stan James is also the current sponsor the Road to Cheltenham which is a series of National Hunt hurdle races consisting of the StanJames.com Fighting Fifth Hurdle at Newcastle, the StanJames.com International Hurdle at Cheltenham, the StanJames.com Champion Hurdle Trial at Haydock, and the Stan James Champions Hurdle at the Cheltenham Festival. In addition to sponsorships Stan James spends a great deal on media and print advertising and has an impressive internet affiliate program available at stanjamesaffiliates.com.
In addition to obtaining new clients via advertising, sponsorships and branding, Stan James has also been a big player in acquiring other bookmakers. In 2007, Stan James paid £5.75 million for 32 Red's sports book (Betdirect). Whilst the purchase was made in 2007, it wasn't until February 2009 that Betdirect was completely absorbed. In addition to the Betdirect purchase, they acquired betterbet.com in 2008. Additionally, they entered into a joint venture with BETKICK to serve the Austrian, German, and European markets via their joint brands SJBET and SJBET24. Their growth continued in 2010, as they purchased the bankrupt Pagebet from administration – who was a sizable independent bookmaker that had a strong presence in North Eastern England.
Today Stan James is one of the largest bookmakers in the world, available in dozens of markets, well regulated and is also an IBAS bookmaker. In case you're not aware ibas-uk.com is the website of an independent third party that offers resolution of unresolved betting disputes between bettors and IBAS registered bookmakers. Ultimately no matter where you live in the world you're in great hands with www.stanjames.com. The only countries they do not service are Nigeria, Japan, USA, Serbia and Denmark. If you live anywhere else in the world besides those five countries, Stan James is a great choice.