Using Sports Betting Sites in Washington State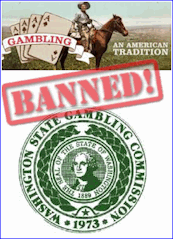 Residents of Washington State looking to bet sports online or play online poker and casino games are often disappointed to discover how difficult of a process this is. Most every gambling site servicing the US market blocks players from just two states. One state is Maryland the other Washington. Perhaps the only reputable exception players from these states can use is www.5dimes.eu which offers sports betting, casino, poker, fantasy sports and horse race betting from the same website.
Unfortunately, the only methods for deposit and payouts at Washington State gambling sites are Western Union and MoneyGram. You'll need to join 5Dimes, log-in, and click the live chat button to obtain deposit instructions. We can confirm other top rated betting sites servicing the US block players from Washington State. These include Bookmaker, Bovada, Intertops and dozens of others. If you do find a site accepting Washington players that also offers residents credit card deposits, be very careful as this might be a scam.
So, why is there so much fuss about online betting from Washington State? This is what I'll cover in this article on Washington State gambling laws.
Washington State Online Gambling Laws
Washington State has the strictest online gambling laws in the U.S. Not only is operating an online gambling site that accepts Washington State residents illegal, it is also unlawful for a player based in Washington State to make a wager over the internet. Either act is a Class C felony. A class C felony in Washington State is punishable by 1-5 years in prison and a fine of $1000-$10,000. While some states and the federal government set these types of penalties for online gambling website operators, no other state sets these types of punishments for online gamblers. While the penalties of the law are steep, no person has ever been charged with violating this law.
Senator Margarita Prentice was the sponsor of the law that went into effect on June 7, 2006, just a few months before the U.S. passed the Unlawful Internet Gambling Enforcement Act. The law was challenged by the PPA Washington State Director Lee Rousso. The case went all the way to the Washington State Supreme Court. It was upheld. Within a few weeks, several major online gambling sites left the State of Washington. These companies included PokerStars and Full Tilt Poker. Eventually, most U.S. friendly online poker rooms, sports books, and casinos.
Why Was Online Gambling Banned in Washington State?
Senator Margarita Prentice represents a district that is home to many brick and mortar gambling establishments. Many online gambling observers have accused her of sponsoring this law to help protect the gambling industry within her district.
What Gambling is Legal in Washington State?
There is one exception to the online gambling ban in Washington State. Online horse race betting is legal. Live horse racing wagers and off track betting are also legal. Card clubs that offer games of skill are also legal throughout the state. Indian reservations are allowed to offer full fledged casinos that include slot machines, video poker, off track betting, as well as skill games involving cards that are legal in off reservation card clubs. These games include poker and blackjack. Commercial style bingo is legal on reservations too. Charitable bingo is allowed with restrictions on prize pools and payouts. The state also manages a lottery that offers games such as lotto, scratch off tickets, and keno.
What Sports Book Accept Washington Players?
Most US sportsbooks left Washington State due to the lack of processors willing to make payments there. Companies that no longer service Washington State include Bovada.lv, Bookmaker.eu, BetDSI.eu, and BetLegends.eu.
5Dimes will accept players in the state. 5Dimes offers sports betting, casino games, and poker. 5Dimes will deactivate the cashier of Washington State players and place them on a cash only system. That means that the only option for deposits and withdrawals will be cash transfer services such as Western Union and Moneygram. You will need to contact 5Dimes support to get the cash transfer receiver's name when making a deposit. Support will also have to initiate all withdrawals. Understand 5Dimes is highly reputable and you can learn about them in our 5Dimes review.
Washington State Online Gambling Law
RCW 9.46.240
Gambling information, transmitting or receiving.
Whoever knowingly transmits or receives gambling information by telephone, telegraph, radio, semaphore, the internet, a telecommunications transmission system, or similar means, or knowingly installs or maintains equipment for the transmission or receipt of gambling information shall be guilty of a class C felony subject to the penalty set forth in RCW 9A.20.021. However, this section shall not apply to such information transmitted or received or equipment installed or maintained relating to activities authorized by this chapter or to any act or acts in furtherance thereof when conducted in compliance with the provisions of this chapter and in accordance with the rules adopted under this chapter.

Notes: State policy — 2006 c 290: "It is the policy of this state to prohibit all forms and means of gambling, except where carefully and specifically authorized and regulated. With the advent of the internet and other technologies and means of communication that were not contemplated when either the gambling act was enacted in 1973, or the lottery commission was created in 1982, it is appropriate for this legislature to reaffirm the policy prohibiting gambling that exploits such new technologies." [2006 c 290 § 1.]
Related Links
Margarita Prentice to Washington Poker Players: "Let Them Go Pump Gas"