VIPSports.eu Review – A Deceptive Start for this NEW Company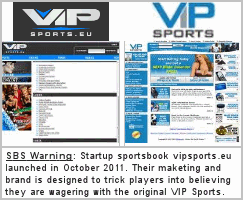 VIPSports.eu is a startup company that launched in October 2011 using the website address www.vipsports.eu. It's important to note this is NOT the VIP Sports that used the urls vipsports.com and vip.com. That company which had a great reputation went out of business in August 2011. Then, taking advantage of the fact that many gambling sites recently changed their domain names from .com to .eu, this new company called VIP Sports was launched with the intent to piggyback of the reputation of the original VIP Sports. The new company is a licensee of a Safari Casino Group who provides them software in exchange for monthly royalties.
We want to point out there is no reason to believe that vipsports.eu is setting out to rob former clients of the original VIP. While their marketing practices are highly deceptive, they are using legit software, and should be treated the same as any other start up. Entirely unsure where to rate them, we at Sports Betting Sites have initiated their rating as C- and will upgrade them to C if they meet six months without a payment complaint or C+ if they meet the same and we can also confirm multiple instances of hassle free payouts. As a reminder there are numerous risks involved in wagering with startups as very few sites make it, and many of the ones that do eventually run into liquidity issues.
What to Expect at the New VIP Sports
The first thing to note is the software at VIPSports.eu is not the same the same as the brand they set out the copy. The original used proprietary software; after closing this software was sold to another startup that now operates GTBets Sportsbook. The new company is simply a BTG Gaming skin. The software is the same as other skins of BTG such as dimeline.eu and a poker room is integrated which operates on the Cake Poker Network. According to their website VIPSports.eu operates under the laws of Curacao and their banking options include OK Pay, Visa, MasterCard, American Express, Discover, Moneybookers, Western Union, MoneyGram and BankWire.
Players who visit www.vipsports.eu, register and make a deposit are given a no strings attached 15% up to $150 sign up bonus. The company has however recently obtained a partial VIP Sports client list (one dating back many years). Players on this list are being emailed a special promo code where they can claim a 50% sign up bonus. Again, please be advised this is NOT the original VIP Sports. Unfortunately, many clients are likely to take advantage of this promo code offer thinking they are betting with the well established and now defunct vip.com (formerly vipsports.com).
Fellow BTG Gaming Skin Dimeline.eu
Although BTG Gaming is a reputable provider of betting software, many of their skins have had problems in the past. The highest a BTG Gaming skin has ever been rated by the Sports Betting Sites family of gambling watchdog sites is C+. This however shouldn't reflect too heavily on vipsports.eu as each skin manages their own marketing and finance side of their gambling operations. BTG is simply the software provider which receives a royalty from the parent licensing company of the skins which is the Safari Casino Group.
The best known BTG Gaming skin is Dimeline.eu (SBS Rated D). This company in November 2010 admitted financial difficulties and was the perpetrator of several slow pays. The players were eventually paid, and as a sign of good faith dimeline.eu bailed out players of a scam sportsbook. While all signs point they are now rather safe, SBS is airing on the side of caution. We'll reevaluate their rating of D on June 1, 2012, thus getting a chance to see how they respond to the conclusion of the busy season that includes NFL football and March Madness.
Be careful with VIPSports.eu
We have no reason to advise players not to use vipsports.eu, however we always advise caution when dealing with startup sportsbooks and are highly concerned that many players will be deceived into thinking they are wagering with the original VIP. Picking a site rated A- or higher on our Sportsbook Rating Guide is probably a better option for most players than wagering with startup site vipsports.eu.