An Honest Review of WagerWeb.com

WagerWeb.ag is an online sportsbook rated C on the SBS Rating Guide. They are probably an okay option for small limit players that have exhausted other sign-up bonus offers. While they have a past history of player complaints, these have all since been resolved. As of May 2013, WagerWeb has been been issuing fast payouts for 20 consecutive months and no new serious player complaints have originated during this same time frame. We feel account balances stored here are moderately safe.
WagerWeb Concerns
There are a few things to be aware of if considering WagerWeb:
Forced Bonus – WagerWeb forces players depositing with credit card to accept either a 30% bonus with 7-times rollover or a 50% bonus with 15-times rollover. This cannot be declined; it is a forced rollover. The first issue here is this is not competitive. www.bovada.lv has a 50% sign-up bonus up to $250 with only 3-times rollover. www.justbet.cx (when using Promo Code: 500FREE) offers a 100% up to $500 bonus with 10-times rollover. The second issue is that when using credit card there is no option to decline the WagerWeb bonus. This is not the case at other US facing sportsbooks.
Short Pays – As is common with sportsbooks that bill themselves as recreational, WagerWeb has some level of non-competitive pricing for buying points, teasers and parlays. This simply takes advantage of recreational players who are not aware they could make the same bet at other sites for a larger payout. For example WagerWeb offers only 10-to-1 on 4-team parlays, where it is 12.28-to-1 at 5Dimes, Bookmaker and Bovada. This is even more than a normal short pay. BetOnline has 12/1 and JustBet 11/1. It is also just one of the examples where WagerWeb pays less.
Bonus Rule – WagerWeb's page on bonus rules begins with: " Bonus programs are intended for recreational bettors only. Professional players or players considered to be abusing the bonus system by any means may have bonuses and money earned from wagering bonuses revoked at the discretion of WagerWeb". The concern here is what defines "professional players"? This is of course subjective. Taking away the remaining bonus, I have little to no issue with. Including wording that could be used to take away money already earned is a concern.
Now granted if you've already worked off the JustBet and Bovada sign up bonus, and are looking for an extra book to shop against 5Dimes, WagerWeb might be fine. There are not a lot of US facing sportsbooks with fast payouts left. Obviously just be careful to avoid short pays.
Why is WagerWeb Rated #1 Elsewhere?
If you haven't noticed there are many websites that rate WagerWeb.ag the top online sportsbook. Their headlines focus only on the fact they accept US players, offer good bonuses, and convenient banking options. This packaged with their decent domain name and flashy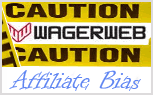 website is an easy sell. The truth however is that most sports betting review portals are not legit.
In fact, most affiliate sites are pretty much scams that primarily publish garbage. Some promote known scam books such as OddsMaker.ag. They also don't care about the facts. They will say some average book with horrible parlay odds offers the best odds for parlays. All of this is common because most all affiliate sites are motivated only by money. Sportsbooks that offer the best value get their service recommended by legit players all over forums. Sportsbooks with less value have paid shills and employees posting on forums and pay affiliate driven websites big money to promote them. In this industry do not trust much of what you read.
Wager Web History

The history of WagerWeb dates to 1997 when they were building a walk in betting shop in what is now Aruba's largest casino. This is of course the Casablanca Casino located in The Westin Resort & Casino, formerly known as Wyndham Aruba Beach Resort. After what can probably best be worded as an attempted shakedown by Aruba authorities, they abandoned their end of the project. The guys that would eventually start WagerWeb jumped on a chopper plane to Dominican Republic and started Casablanca Gaming. The Aruba casino end of this project continued without their involvement.
In 1998 they moved operations to Costa Rica. From here they launched their first online betting site www.betcbs.com in 1999. This company had an inflated reputation almost out of the gate. What they did was launch one of the internet's first sportsbook affiliate programs. This meant anyone with a website or a forum could tout BetCBS and get a percentage of the loss of all players they referred. Between their own wagering staff and many affiliates posting on forums, it didn't take long for this to be "considered" one of the most reputable brands.
Scams with Associated Sportsbooks
BetCBS became WagerWeb in November 2004 with no ownership change. I'll discuss that later in this article, but wanted to make this clarifying point early on. While their parent site had a relatively clean track record until 2003, they were related to some minor scams. Specifically, over the years Casablanca had several other sports books that operated from their office. Some of the many books they once powered include 24-7wager, BetASB, BetDon, BetEpic, BetGrand, Betitup, BetOEG, BetOSB, BetOSI, BetOSS, BetPine, BetPS, BetTiger, BetMac, BetUltimate, BetWorldSoccer, Pacific Sportsbook, and TheSportsMill. Note: This is a sample rather than a complete list.
While it would be easy to just call these Pay Per Head (PPH) books, Casablanca represented many of these as backed by their own company. This was because payouts and customer service were the same. Many times the CEO Dave Johnson and the Head of Marketing Dan Richards would respond on behalf of these books. These same names also handled player vs. bookmaker disputes with several of these sportsbooks.
Bonus Scams Start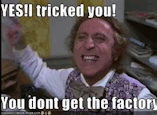 Scams involving the powered books began mounting up in a hurry starting around 2001. The earliest complaints were a bit quirky and mostly bonus scams. One such example, a book BetCBS purchased had previously offered their players a $25 comp with multiple strings attached. How it played out was players who busted and ones who didn't appear they would reach the cash out requirements were allowed to slide. Those who actually met the terms and conditions found their accounts locked. Upon inquiry they were told the risk management department has made the decision to revoke their bonus. These players were then offered a chance to deposit the amount in their account to release this as a bonus with 10-times rollover.
Changing terms midstream was a common complaint about their associated brands. A situation far less harmless came up with one of their powered books named Spreads. The company solicited players with a 20% cash bonus with 50-time rollover. However the terms stated the player could cash out winnings at any time prior to the rollover being met. The company then went back on these terms. One particular player shared the story that when he attempted to cash out he got the following message emailed to him:
Unfortunately we are not able to process it at the present time due to our new policy for payouts. In order to take out your funds you must reach the 50X rollover of your bonus given on May 16th ,2006. The total amount you must wager is $150,000 and as per today your wagered amount is $3,320. If you wish to proceed with your payout you will lose the bonus.
This player then had the following live chat conversation:
Player: i requested a payout and I got a response that the new policy is you have to complete the rollover prior to withdrawing winnings
Diego: Hello
Diego: Yes
Player: I am confused. The terms of the bonus was 50x rollover but i could wihtdraw winnings at any time. how can you change the rules midstream
Diego: Mangements decision
Player: it doesn't make sense. we already agreed to the terms. how can the terms be changed
Player: are you sure there
This particular case got exposure around betting forums and likewise was resolved. It's worth noting however when complaints are hitting forums, it is reasonable to suspect there were similar complaints that did not. We don't hear about the players who settle under duress when no forum is involved..
Players Stiffed at BetSBA

A situation that didn't get too much press is BetCBS (WagerWeb) was powering and was believed have to purchased Sports Betting Arena (BetSBA) in 2002. This brand failed and rumors have long lingered that many players were stiffed. Perhaps the reason it did not get much press is BetSBA (SportsBettingArena) had already been removed from the recommended list of several watchdog sites before this happened. How much was stiffed and if a settlement was ever made is now a decade later a forgotten topic.
BetCBS Complaints Start
Until, 2003 -the only real complaints about Casablanca was their association with scam books and voided bonuses. The first PR hit that really exploded on forums under the Casablanca name came in 2003. This was a tennis bet dispute with Areef. After taking a beating on forums they finally reversed their decision. However they didn't quite do so fully. TheRx, EOG and SBR all reported a month after the fact of an apology from Dave Johnson where he claims he paid the player. He did pay him "most" of his winnings. What was left out is the fact the player agreed under duress to a settlement and was not paid in full.
It's worth again noting that when there was huge PR hits BetCBS/WagerWeb often did eventually pay. They at least did a good job covering for the loss of business such thefts would cause them. But again, think about how many players do not know about forums? This is certainly food for thought.
BetCBS Becomes WagerWeb

Even though WagerWeb is a great name, BetCBS didn't rebrand without good reason. A bit of a back story is that in 1999 the NCAA discovered and raised concerns that CBS who was broadcasting their March Madness Tournament had ties to online gambling. What happened here is CBS was a 20% shareholder in and a major client of Sportsline USA. It was discovered that Sportsline owned the domain name sportsbook.com which was being used as a gambling site. CBS claimed they had no knowledge of this and Sportsline's president Michael Levy said he was uncertain whether he had informed his corporate partner of the lease.
This was a great embarrassment to CBS Broadcasting Inc. (CBS) and even after the sale, many were skeptical that perhaps they were still involved in online gambling. The fact the website BetCBS.com existed didn't help much. They went through a long legal battle with Casablanca attempting to gain control of this domain. This case was finally settled in November 2004 and BetCBS.com changed its name to WagerWeb.
History as WagerWeb
In 2005 and 2006 the only WagerWeb complaints were mostly quirky ones. One was that they required players wager 5-times more on point spreads than they did on prop bets. The software however did not block a player from doing so. The policy used was to first warn the player and if he continued they would close his account. While there is no evidence WagerWeb ever did this, their wording of the rules did give them the possibility to void wins.
In 2007 there were several complaints against WagerWeb where the company may have acted fairly. These complaints are important to note because not all negative press is always deserved. Here are few samples of such complaints:
Luke M. vs. WagerWeb: This was a case where in May 2007, a player had a $11,793 balance voided upon requesting a payout. If you were to Google search this complaint in detail you would discover that while there's some room for doubt and perhaps this was a freeroll situation, there is strong evidence this was a multi-account scam. It does appear multiple accounts were created from the same IP address to take advantage of multiple bonus offers. The method the company used to void his balance does seem fair enough as the player would never had funds to bet with had there not been a bonus involved.
60 Past Post Football Bets: If you're interested in sportsbook disputes this is a great case to do some deep research on. In October 2007 a player was calling WagerWeb about a minute before kickoff inquiring about certain games and stalling the clerk before placing his bet. He made many bets past post due to poor risk management of WagerWeb. It was an angle and I tend to agree with former SBR moderator Elihu Feustel (Justin7) that the company acted fairly here in cancelling the bets. Again however we have the issue of an intentional free roll situation here. Several good points are made in this SBR thread (archive.org version as thread has been archived by SBR and is no longer accessible on their website).
$7,000 Balance Missing: In November 2007 there was a player who had provided negative press over a slow payment, which wasn't even too late. This player later claimed on forums that WagerWeb stole his remaining $7,000 balance with his account showing it as a casino loss. The problem with this complaint is this was not a known player, and it was a matter of WagerWeb's word versus his own. He very well could have been a shot taker or just been spreading made up press.
The reason I've included these complaints in this report is to drill home a small point. Casablanca (BetCBS/WagerWeb) made many enemies over the years due to bonus scams and voided lines. This created a situation where many posters rushed to back the player in all complaints against them regardless of circumstances. While even though to this point there were legit concerns, there's probably some level of heat they have taken in certain spots only due to actions that were well in the past.
More Recent WagerWeb Issues
As of May 2013, WagerWeb has 20-months of rather clean history. The only complaint I recall that originated during this period involved a player who deposited with credit card not understanding the forced rollover was required. When staff called to ask which bonus he would like he said none, which they refused to allow. Having not made a bet yet, he requested a refund which they did not honor due to his threat of chargeback. This had some drama attached to it, but WagerWeb made the rules much clearer on their credit card deposit form and as far as I know the player has been refunded.
Now while no complaints have originated over this 20-month period there were some from prior that lingered on during most of it. In December 2012, WagerWeb FINALLY settled a $2,500 16-month slow pay. The details here were that WagerWeb claimed they believed the player had already been paid. When they finally made this public the player insisted this information was false and offered to order official bank records and cooperate any other way needed to prove it. Still it took several additional months for WagerWeb to pay, but again they did eventually pay in full.
The biggest and most famous WagerWeb complaint is one I (Prop) was heavily involved in reporting. At the time I am writing this review it was only finally settled days ago. 42-month after the fact a well known forum poster TrixTrix has finally been paid $11,278 that WagerWeb had previously confiscated from him. I am glad to see this dispute resolved and the idea of writing more about it tires me quickly. However, some details can be found here.
Currently, the primary concern I have with WagerWeb is their bonus term that I mentioned in the introduction. I would prefer that term be altered slightly and in a way that it is very clear. The concern is the ability to retroactively revoke earnings from a bonus. The reason this is concerning is calling someone professional is a subjective assertion. It can be used to simply take part of the winnings away from any player that beats them, and doing so would be within their rules. While I am not aware of any recent complaints of bonus theft, there were some well in their past, and I'm a big advocate of having clearly defined rules, as opposed to ones that are subjective. Rules should protect both players and the book.
Again, WagerWeb is now rated C on our rating guide and this is respectable. We no longer consider them a scam level book and feel they are mostly legit. However, there are other better choices too. Several books offer better bonuses with credit cards or have reduced juice, and have better payouts on buying points, teasers and parlays. I would consider WagerWeb as an option for a fifth, sixth or seventh betting out.