Victor Chandler (BetVictor.com) Review, Free Bets, History and More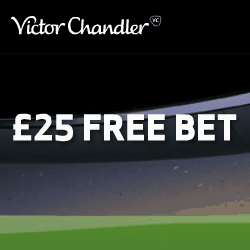 www.betvictor.com is one of the most popular sports betting sites. They offer sports betting, horse race betting, casino and poker from a single website. If you've never had an account with them before, visit their website, register, deposit, place a bet and they'll match that initial bet with a free bet up to £25 in value. As you'll learn in this review, their parent company Victor Chandler is well trusted, has a rich history and is the official sponsors of one of the oldest Football Clubs in England, nPower Championship side Nottingham Forest. If you're looking for a safe and secure website to place your sports bets, VC is an excellent choice.
What we like about BetVictor
The company behind betvictor.com (Victor Chandler) has a long history in the UK and currently owns betting shops on Deanery Street, Mayfair, London and TheDublin betting lounge on Upper Baggot Street as well as 14 additional shops in Scotland. Of course their online website is well targeted to the UK with sports such as football (soccer), rugby and cricket offered, but also has American sports such as football (gridiron), baseball, basketball, and hockey on offer and other sports many do not make a market for – such as snooker, darts, handball, volleyball, hurling, and alpine skiing. They also specialize in motor racing including F1 betting and take decent limits on online tennis bets.
The coverage of leagues is quite impressive as well. This comes as the result of their website supporting English, Spanish, German, Hebrew, Greek and Romanian language, and UK Sterling, Euros, Australian Dollars, Canadian Dollar, Danish Kroner, Euros, New Zealand Dollars, Norwegian Krone, Romanian New Leu, Singapore Dollars, South African Rand, Swedish Kronor, Swiss francs, and US Dollars as currencies. Their company claims www.betvictor.com turns over in excess of £1 billion via a half a million customers in more than 160 different countries. As a result, you'll find far more than just UK sports leagues offered and the added variety leads to a lot more +EV wagering opportunities.
In addition to the sports already mentioned here, you can wager in their casino, poker room or can naturally visit Victor Chandler's roots by betting on the Greyhounds, as well as wagering on horse racing in both the UK and US. They also offer wagering on world politics, boxing, UFC, and entertainment. So in short, what I like best about Victor Chandler is their impressive variety of wagering opportunities offered.
BetVictor Banking Options
In addition to the diverse sporting events another area I appreciate BetVictor for is the number of ways there are to pay for betting and cash out winnings. Here deposits can be made using a full selection of credit cards; the minimum deposit via this method is £5 and there is no maximum. The popular e-wallet Skrill (formerly Moneybookers) is also available for same £5 minimum and no maximum.
Bettors using NETELLER can deposit between £5 and £50K, whilst PayPal transactions range between £10 and £5500. Ukash bettors can deposit between £5 and £500 and the ceiling for Paysafecard deposits is £750. You can use BACS to deposit amounts as little as £1 and as high as £10K. Entropay lets you load your account for amounts ranging between £5 and £50K. There is neither a minimum nor a max deposit for Western Union Customers and you can transfer anywhere from £10 to £1,000,000 over the telephone when you call in a transfer by telephone.
Of the available deposit options at BetVictor.com, you can use Entropay, phone transfers, BACS, PayPal, NETELLER, Skrill, and credit cards to book your winnings. Telephone transfers to your bank account allow you the most freedom, as you can withdraw up to £1,000,000 from your VC account and Entropay cashouts have no ceiling at all.
As far as payout times are concerned, BetVictor is quite reliable. If you cash out via cheque, you will usually receive your money within 10-15 days. Telephone transfers and BACS network transfers are typically received within three business days from process time to receipt time. These are the best ways to cash out from your account in our opinion, as these methods of cashout are reliable and rather prompt.
In the event you need to reach BetVictor for any reason, including to initiate a telephone transfer, they can be reached at the following numbers:
UK Freephone: 08000 612 809
UK Landline: +44 20 7127 9064
Irish Freephone: 1800 992 808
International: +350 2000 6700
VC support can also be reached via live chat and through email on their website.
Victor Chandler Complaints
www.betvictor.com is a highly respected and legitimate online betting website, so complaints are somewhat rare. The one accusation that does come up from time to time on betting forums is the idea VC is quick to cut betting limits from winning punters. Although there is some merit to this, this statement alone is a bit misleading. The better way to state it is players who consistently chase steam (meaning, they bet odds that are changing at other sites seconds before VC has the chance to move the odds) will be limited extremely fast. VC isn't afraid to take bets or scared to hang the occasional off market price – it's simply those consistently making steam plays that end up having their limits cut.
Outside that one complaint there isn't much negative to say about betvictor.com. As you can see from the final section of this review the company has a very rich history with a great proven track record.
The History of Victor Chandler
As you may be able to guess, the company is family owned and chaired by Victor Chandler, though the current Mr. Chandler was not the person who established the bookmaker. In 1946, William Chandler established the bookmaker and in the early days of VC, their primary focus was greyhound racing and wagering, as William owned Walthamstow Stadium in London.
He leveraged his knowledge of greyhound racing into his more formal bookmaking company, which began expansion across the south eastern UK in 1963, which coincides with the passing of the Betting, Gaming, and Lotteries Act. Upon the passing of this Act, Victor Chandler began opening betting shops, strategically located throughout London. Most of these betting shops were later sold off to Gala-Coral and today VC still owns and operates numerous shops in the UK and Scotland.
In 1974, the current Victor Chandler took control of the company. It was during his tenure that the Victor Chandler brand experienced its most significant growth and evolution. He began focusing on ventures outside of the UK, namely in the Far East and online. He also took the company from being mostly greyhound-centric to focusing on accepting football bets and wagers on other sporting events. He relocated the headquarters of Victor Chandler in 1999 in a move to avoid a steep betting tax in the UK of 9%. The company took on its new home in Gibraltar, which is where the Victor Chandler International corporate headquarters currently resides. Gibraltar also provides VC with their gambling licences, which allows them to offer all of their wagering and casino games legally. In 2004, they had experimented with a change in brand name, as they were known as VCBet. However, they decided to return to their roots in 2008 and reverted to their original name of Victor Chandler, before eventually changing their name to BetVictor in December 2011.
Today, Victor Chandler accepts over £1 billion worth of wagers annually with a customer base of more than 500,000 bettors spread throughout 160 countries. Victor Chandler has their main corporate offices in Gibraltar and satellite offices located in Buenos Aires, Kuala Lumpur, and Macau. Whilst Victor Chandler himself chairs the company, Michael Carlton serves as the Chief Executive Officer of the company and has been in charge of day-to-day operations since 2000.
Reminder: Remember a £25 free bet is available at www.betvictor.com for all those who never had an account with this company before.