Honest Online Poker Sites for US Players
Top US Poker Sites
Sign-up Bonus
1
Bovada.lv
50% to $250 Free Play
2
5Dimes.eu
Reduced Juice (-105)
Many years ago it was easy to find honest internet poker in the United States. Prior to late 2006 we could play at PartyPoker, 888Poker, William Hill and all the other publicly traded poker sites. However, late that year the Unlawful Internet Gambling Enforcement Act (UIGEA) was passed by the House and Senate and was quickly signed into law by then US President George Bush. This is when most of the reputable gambling sites stopped servicing US residents.
The sites that were left after UIGEA were mostly wiped out following United States v. Scheinberg. This began on April 15, 2011 and is better known as Black Friday. This saw PokerStars.com leave the US market after getting their domain and bank accounts seized. Full Tilt Poker closed all together only to later be bailed out by PokerStars (US players still not paid). While Absolute Poker and Ultimate Bet went bankrupt and closed without paying players. Since then, many smaller sites have closed stiffing players too.
Poker is NOT a CRIME!
Understand it is still legal to play poker in most US states. The fuss is that it is illegal to OPERATE (as in own the company that provides) online gambling. This is a state by state issue.
In a couple states such as Washington State and Utah it is a crime, but in others such as Nevada and New Jersey there is legal and licensed internet poker. In the majority of states there are no laws at all regarding it as far as players are concerned.
However because the business owners are treated as criminal, this has become like the Old West. Below are in my opinion the only safe options for United States residents to play poker on the internet.
#1 is Bovada Poker
Bovada is our top choice for online poker play from the United States. Their

poker.bovada.lv website operates on the Bodog Poker network which helps provide a ton of player traffic and extremely soft games. This is because Asian bookie Haydock, now branded Bodog88, operates on this network. This has brought a large number of players from China, Thailand, Malaysia, Korea and Vietnam who have long been Bodog88 casino and sports clients. Most of these players are trying real money online poker for the first time. You'd be hard pressed to find any poker website in any market that has softer games than Bovada. They also have a great $1,000 welcome bonus, a VIP program, guaranteed tournaments, a TLB promotion and all sorts of additional promos. Their website poker.bovada.lv will give you a glimpse at what's offered.
#2 5Dimes Poker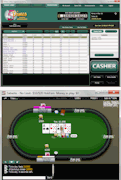 www.5dimes.eu is perhaps the best kept secret in the online poker industry. They are extremely well known to US sports bettors yet virtually unheard of as a poker site. This largely has to do with their marketing. 5Dimes first and foremost focuses on their strength sports betting, while then offering a DGS casino with lowest house advantage of all online casinos period, and a poker site part of the Winning Poker Network (formerly Yatahay), as player retention tools. Other sites on this network include True Poker and AmericasCardroom. If you tried True Poker or another skin years ago and were not impressed I suggest trying them out again. Less than 2 years ago an entirely new version of their software was released and traffic to the network then spiked.
At 5Dimes fast and convenient withdrawals are available via Person to Person (P2P) cash transfer. It's also possible to deposit and withdrawal via money order by courier. This is the one online poker site servicing the United States where you can withdrawal and have cash in your hand the very next day. This all comes free for deposits, and at very low fee for withdrawals. If you give a little cover play betting sports as well, you could find yourself eligible for a free weekly Person to Person (P2P) withdrawals, and if not… again, the fees for cashing out via this method are quite reasonable. To give the best poker site for US players a try get started at www.5dimes.eu.
#3 Bitcoin Poker Sites
This is a topic we're going to get back to you on in the coming months. There are poker sites such as Seals with Clubs that operate only in Bitcoin. These sites do not discriminate based on where someone is from. In fact this is because all players are anonymous to them as deposits and payouts are made with the anonymous Bitcoin currency. Of course with everything so anonymous we are not yet sure how to determine which sites are the most trustworthy. This is a topic we will address in more detail by summer 2019 at the latest.
Do Not Trust Affiliate Portals
Understand, as our focus is sports betting, SBS initially had no plans to recommend poker websites. However, as service to our readers living in the United States we decided to create this page. You see, ever since Absolute Poker, Ultimate Bet and Full Tilt Poker shutdown and PokerStars left the US market the online poker industry has been a mess for Americans. The biggest situation right now is the Lock Poker Scam. This site has US players that have been waiting 6+ months for cash outs and even e-wallets payments to non-US players are taking several weeks. I think it is fair to say there is a considerable possibility Lock Poker is now just a ponzi scheme.
And here is the real issue…
Back when BetOnline Poker issues were rampant websites still promoted them. The same is now taking place with Lock Poker. They are being touted all over the web as the best site for US players, yet are taking 6+ months to pay.
Merge Gaming Sites such as CarbonSports.ag (a.k.a. Carbon Poker) also take months to pay players. The issue is that most of what is left for companies servicing the US market are not well managed or conceptually sound. If it was not for UIGEA / Black Friday many of these sites would likely not have enough players to get 6-handed $10 max buy-in game filled. They are only relevant because most reputable sites moved on.
Again the two exceptions to all this are Bovada and 5Dimes. These are leading sports betting companies that offer poker on the side. There is still plenty of traffic and the games are safe and secure.
You don't hear as much about Bovada and 5Dimes on other website which is why we created this page. Other poker related portals are not sharing this information for reasons they are being paid handsomely to recommend potential scam sites such as www.lockpoker.eu. Although we're affiliate marketers the same as them, if you do the research about our history and betting sites we recommend, I'm sure you'll end up very glad you found this website as opposed to theirs.