Betting On Lewis Hamilton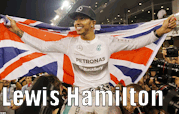 Lewis Hamilton will be the favourite in almost every race of the 2019 F1 season. Over the past 5 seasons he made 100 starts. He won 56 of those races, won the pole 52 times, and made 80 podiums. These are stats the racing world has never before seen. He is well on pace to go down in history as the most successful F1 driver of all time.
Last season was another dominating one for Lewis Hamilton. He won 11 of 21 races. In the 10 he didn't win, he made 6 additional podiums (2nd three times, and 3rd three times). In the only four races he did not make the podium, he had two fourth place finishes, a fifth, and retired once. He won his fifth career World Drivers' Championship with 408 points. This was well ahead of Sebastian Vettel who finished runner up with 317.
Lewis Hamilton 2019 World Drivers' Championship Odds
Weeks before the 2019 season started with the Australian Grand Prix, the best odds available for a punt on Lewis Hamilton to win the Drivers' Championship were 13/8 (+163 American Odds / 2.63 Decimal Odds). Betting exchanges such as Betfair offered similar before commission.
Hamilton finished the 2019 Australian Grand Prix runner up. His Mercedes teammate Valtteri Bottas won the race. Hamilton's odd on winning the 2019 Drivers' Championship changed to 19/20 (-105 American / 1.95 European). The reason his chances of winning improved is rival Sebastian Vettel's result. Vettel started the season second favourite to win the Drivers' Championship and was favoured to win the season's first race. When Vettel finished only 4th place, Hamilton's chances of winning the drivers' championship improved.
SBS opinion is that at any odds close to even money, Hamilton is a great bet. This is for betting F1 race winner, pole position, and winning the season point race. Such odds are likely only available to start the season. The reasons why are covered below in his bio and stats.
Lewis Hamilton Bio
Born: 7th January 1985. Stevenage, Hertfordshire, England
Residence: Switzerland
Team: Mercedes AMG
World Drivers Championships: 5 (2008, 2014, 2015, 2017, 2018)
Hamilton Career F1 Racing Stats
*Through the end of 2018 Season
Races Started: 229
Poles: 83
Poles/Starts: 36.2%
Wins: 73
Wins/Starts: 31.9%
Podiums: 134
Podiums/Starts: 58.5%
Hamilton Past 5 Seasons (2014-2018)
Races Started: 100
Poles: 5
Poles/Starts: 52.0%
Wins: 56
Wins/Starts: 56.0%
Podiums: 80
Career Podiums/Starts: 80%
Racing Style
Lewis Hamilton is known as an aggressive driver that is willing to take risks, often seen in his overtaking attempts. Hamilton is also known for being one of the better drivers in the rain. His aggressiveness isn't always appreciated by other drivers, having been criticized for blocking on numerous occasions throughout his F1 career. For as long as his Mercedes AMG team continues to give him cars with enough speed, Hamilton will be favoured to win additional World Drivers Championships.
Reasons for Recent Hamilton's Success
In 2013, Lewis Hamilton made the change from McLaren F1 Team to Mercedes AMG. He began his F1 career as a starter with his former team in 2007. He finished that year second in the points standings and then won the WDC the year following. F1 was in the second year of going from V12 to V8 engines when he began. During those first years on that engine, the World Constructors' Championship (WCC) was very competitive. Then, from 2009-2013, it was dominated by Team Redbull and Sebastian Vettel.
During the period of Redbull and Vettel dominance, Lewis Hamilton was viewed as a hit-or-miss driver. He's extremely aggressive, which usually resulted in good things. However, his aggression also got him into trouble from time to time. As one of the better passers in F1, this created interesting betting choices for Hamilton. He was a threat in any race, but had an inferior car that made it difficult to be a threat at winning his second WDC Championship.
Dominance Since Joining Team Mercedes
This all changed in 2014. That season was the first year F1 changed to using the current Supercharged V6 engines which match his aggressive style well. His new team AMG-Mercedes were superstars. They delivered by far the best cars, and with two strong drivers crushed the 2014 WCC by a wide margin. Hamilton crushed again in 2015.
2016 was an interesting year that showed just how dominate team Mercedes is. That season Hamilton won 10 of 21 races and made 17 podiums. His 380 points would have won him the Drivers' Championship any other year. His teammate Nico Rosberg however scored 385 points on the season, despite winning one less race. Team Mercedes crushed the Constructors' Championship winning 19 or 21 races. Nico Rosberg retired at the end of that season, and Valtteri Bottas became his new teammate.
In 2017 and 2018 Hamilton won his fourth and fifth World Drivers' Championships. During the past 5 seasons he has won 56% of the races he started. He has won the pole 52% of the time and has an 80% start to podium percentage. He is most certainly the dominate driver in F1 racing today, and it is so by a wide margin.
Lewis Hamilton Betting Tips
Hamilton is no doubt the odds on favourite to win the 2019 WDC. This puts punters in a tough position as the odds are going to be small on him in virtually every race. If wanting to back him, it might be best to do that as a season long bet. If not, it might be best to wait for the occasional races he starts lower on the grid.
When he's running well, Hamilton is always a threat to win any race even when not starting P1 or P2. With his willingness to weave & block, he's difficult to overtake, and also will pass others on many circuits. Extra value can be found in races he starts off the pole when rain is expected.
Hamilton has proven to be courageous driving in wet weather. Pay attention to weather reports 2-3 days in advance when his odds may be greater than deserved. Outside this, again, it might be difficult to find value on him this season. He is likely to win a lot of races, but the payouts relative to stake will be small as he's likely a big favourite in most of those.
Detailed F1 Results (Past 5 Seasons)
2018:
Team: Mercedes
Poles: 11
Wins: 11 (Azerbaijan Grand Prix, Spanish Grand Prix, French Grand Prix, German Grand Prix, Hungarian Grand Prix, Italian Grand Prix, Singapore Grand Prix, Russian Grand Prix, Japanese Grand Prix, Brazilian Grand Prix, and Abu Dhabi Grand Prix)
Podiums: 17
WDC Points/Standings: 408, 1st
2017:
Team: Mercedes
Poles: 11
Wins: 9 (Chinese Grand Prix, Spanish Grand Prix, Canadian Grand Prix, British Grand Prix, Belgian Grand Prix, Italian Grand Prix, Singapore Grand Prix, Japanese Grand Prix, and United States Grand Prix)
Podiums: 13
WDC Points/Standings: 363, 1st
2016:
Team: Mercedes
Poles: 12
Wins: 10 (Monaca Grand Prix, Canadian Grand Prix, Austrian Grand Prix, British Grand Prix, Hungarian Grand Prix, German Grand Prix, United States Grand Prix, Mexican Grand Prix, Brazilian Grand Prix, and Abu Dhabi Grand Prix)
Podiums: 17
WDC Points/Standings: 380, 2nd
2015:
Team: Mercedes
Poles: 11
Wins: 10 (Australian Grand Prix, Chinese Grand Prix, Bahrain Grand Prix, Canadian Grand Prix, British Grand Prix, Belgian Grand Prix, Italian Grand Prix, Japanese Grand Prix, Russian Grand Prix and United States Grand Prix)
Podiums: 17
WDC Points/Standings: 381, 1st
2014:
Team: Mercedes
Poles: 7
Wins: 11 (Malaysian Grand Prix, Bahrain Grand Prix, Chinese Grand Prix, Spanish Grand Prix, British Grand Prix, Italian Grand Prix, Singapore Grand Prix, Japanese Grand Prix, Russian Grand Prix, United States Grand Prix, and Abu Dhabi Grand Prix)
Podiums: 16
WDC Points/Standings: 384, 1st