Rigged Video Poker Game by Amigotechs Found at YouWager.eu
Posted by admin on 15 January 2012 in Betting Sites News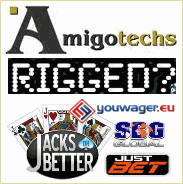 On December 17, 2011 a thread was started at SBRForum.com by user mrdominicf who had joined their forum 15-months prior. In his initial post he alleged he played 15 hands of 50-hand Jacks or Better video poker at a sportsbook's casino while never once drawing a winning hand. This claim caught immediate interest as 15 hands of 50-hand video poker is the same 750 hands never resulting in a pair jacks or better. Now despite the odds of this occurring in a random game being about as likely as the world ending before you blink next, according to mrdominicf he spoke to the casino manager over telephone several times and was blown-off and told their casino was certified and this was the result of being unlucky.
It was soon revealed it was via YouWager.eu that this player was cheated by a faulty video poker machine. The casino software in question comes from a company called Amigotechs, a Panama based company whose corporate website is amigotechs.com. In addition to YouWager, they provide casino software to other gambling sites including JustBet, BetGuardian, SBG Global and PokerHost. Back on topic here, 11 days after making his initial post the player returned claiming he's now played more than 2500 consecutive hands without ever once drawing a winning hand. Despite this, the YouWager casino manager was not yet willing to budge on his position of certified and just unlucky.
Connection to AST Gaming and ThrillX?
As a side topic here, another forum poster showed up claiming Amigotechs is the old software of AST Gaming (also branded as ThrillX) which used to power BetEd Casino and SBG Global. According to BeatingBonuses.com back in June 2008 there were results reported at these casinos that had the quantified mathematic probability that if every person in the world played a hand every second of the day this would result in a single person achieving these results once every 1500 trillion years. These old 2008 complaints were never settled as most casinos just kept the cash. Whether Amigostechs is associated with that company or not, we have no idea but we've since read this claim on casinomeister.com as well. It appears from searching forums that this 2008 incident involved massively rigged blackjack games where a player never won a hand.
How the Investigation Played Out
For 25 days the thread at SBRForum remained void of any response by an SBR moderator or YouWager representative despite it being quite unusual for either to avoid threads of this nature. Finally on January 11, 2011 official word of YouWager having taken this serious and abandoning their stance of "certified and player was unlucky" finally broke via a third party.
According to a Report by Dr. Eliot Jacobson
On January 5, 2012, Certified Fair Gambling (CFG) was contracted by management of Youwager to investigate a player complaint involving their 50-hand Jacks or Better video poker game. It was made clear they were using an online casino software package created and licensed by Panama based software provider Amigotechs. Youwager was cooperative in providing CFG all necessary log files for a test which Dr. Eliot Jacobson completed, his finding are shared below.
During the period December 16, 2011 to December 27, 2011, if the player had a drawing hand then he did not improve to Jacks or better in any of the hands given in the log file.
Based on a random sampling of hands, the software operated correctly during the period August 4, 2011 to December 15, 2011.
There's much more worth reading and the entire report can be read by clicking this link. But, to put into perspective, based on games tested Dr. Eliot Jacobson concluded it is more likely to win the United States Powerball lottery 14 times in a row, buying a single ticket, than that the results of this game happened purely by chance.
Over at the Wizard of Vegas Forums in the Amigotechs rigged video poker thread, the following update was posted by Dr Jacobson on January 13, 2012.
I had a long conversation with their (Amigotechs') CEO yesterday. They acknowledge that their Jacks or Better 50-line software malfunctioned in the way I described between December 15 and December 28, 2011.

I was told that they have a number of fixes that were put in place for security reasons because people hacked their flash software. Such hacks are constant and are a challenge for all such companies. They are conducting an internal investigation to determine if it was a patch that went wrong, or if there was an employee who purposely did this, or if there was some other cause. I asked that they make a public statement once they have concluded their investigation.
YouWager Response
Finally after Wizard of Odds made the post that helped clear YouWager's name, a long time player advocate and the forum voice of YouWager finally responded (25 days from the original report) informing that all affected players have been refunded.
Sports Betting Sites "OPINION"
The word opinion is placed in caps to separate that everything reported thus far in this post is factual news, while what is said under this header is opinion. It is our opinion this error happened as the result of a faulty cheating mechanism that is built into this software by the software provider. We speculate that most likely operators using the Amigotechs software have the option to cheat players if they so choose. This is evident by the fact this is not the case of an RNG failure, and therefore most likely became possible due to the presence of a weighing system that should never have been included in the software in the first place. Now knowing that no one in their right mind would rig a game this badly, something in the weighing system that controls and regulates juicing the game (cheating) went haywire and the setting went from "win less often" to "never win". It seems unlikely such a malfunction could occur with a game designed to be above the board.
It is also our opinion based on YouWagers near unrivalled record of supporting players, commenting in threads, while advocating fair gaming and running an honest sports betting site that pays and pays fast, that they are likely victims and not responsible here. While this might sound odd, one penny per hand 50-hand Jacks or Better Video Poker is not a game to rig period because volume is so low that the upside here might have been YouWager cheating players out of a very small amount before getting caught and exposed. This is far more likely the case of them attempting to run an honest game while using software that had the potential to be used for cheating.
Are Online Casinos Rigged?
This was not the first case and will not the last case of an online casino cheating its players. For years anyone claiming an online gambling game is rigged, be it poker or casino, has been ridiculed and written off as a ZOMG Online Gambling is Rigged conspiracy theorist whackjob. Meanwhile time and time again we find things like rigged craps games, rigged blackjack, insider cheating, operators purchasing source code etc, while all the arguments about sites having no incentive to cheat, and that RNG audits ensure the games are fair, continue. Well some sites do cheat, just recently another Panama based software company, this one powering Wager.dm and Legends.com, was found running a rigged craps game (full report here). And, if you believe regulation or RNG audits do much to protect against operators cheating, you need to read more about this. These only test that the RNG is capable of providing a random result – they do not test whether it actually does.
In the midst of all cheating scandals which online casinos stands out as the most fair? In my opinion: www.5dimes.eu. But guess what, I'm an affiliate and if you click that link, deposit money and lose I get paid money. Do you see the conflict here? Yet, most of the industries perceptions about cheating, regulation, which sites are the most fair etc, all comes from affiliates – the most easily corruptible side of the online gambling industry. However I digress, the reasons I recommend 5Dimes is because their bonus casino offers by far the best odds of all available online casinos. Although 5Dimes has had problems in the past with software providers found to be rogue, their bonus casino now uses DGS software, a company which has been around since 2001, and first started offering casino software to BetCRIS way back in 2003. Great odds, clean track record and friendly banking options in my opinion makes the casino of 5Dimes Sportsbook one of the safest in the industry. Ultimately though, if you want to be sure the games you are playing are fair, head to www.southwest.com, and book yourself a plane ticket to Las Vegas – this will also probably be a lot more fun than sitting at your PC playing games. If you must gamble online stick to betting sports, and use betting sites highly graded on our Sportsbook Rating Guide. Both these options in our opinion are by far your best bets.