BetOnline Downgraded Over Rogue Poker Site
Posted by admin on 18 November 2011 in Betting Sites News
April 15, 2012 Update – Below is an archived post regarding BetOnline Poker issues. Please understand BetOnline is NOT recommended for casual sports bettors. If you're looking for a 3-in-1 alternative (Sports/Casino/Poker) we suggest www.bovada.lv, who ranks great on our Sportbook Rankings and tops on our list of Best US Poker Sites.
Sports Betting Sites downgraded BetOnline.com from B+ to C- this evening due to very serious issues surrounding their online poker operation. Sports Betting Sites still believes BetOnline is an okay option for sports bettors living in the United States, but at this time strongly advises players to avoid all non sports betting products BetOnline.com offers. This includes their casino and most especially includes their online poker room.
BetOnline Poker Concerns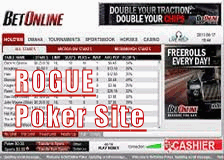 Concerns about BetOnline poker are not new. When the company launched their online poker room in May 2011 they claimed their poker room was independent and not part of a network. It soon became obvious BetOnline Poker shares players and software with the Action Poker Network. Other sites on this network include Action Poker, Tiger Gaming and PayNoRake. Although a bit odd to claim independence when actually networked with a well established company, this in itself is no major transgression. It is however worth noting that the Action Network has been the subject of many player complaints dating back over two years, most of them related to slow paying withdrawals.
Collusion Concerns
Concerns about the anti-collusion software of BetOnline first made it to the 2+2 forums in August 2011. This thread here shows the first of many complaints where a poker player had trouble making a withdrawal due to collusion issues; this complaint was however resolved. In post #43 of this thread well known poker community member and player advocate John Mehaffey, who blogs at pokeraddict.net, raises a major concern. It was soon discovered that it was possible for someone with two computers to sit at the same BetOnline poker table while sharing the same IP address using multiple accounts. This is a major issue in itself but, it was also discovered a player could also have an Action Poker account and a BetOnline account, load both from the same computer, and sit at the same real money table together. This means multi-account collusion from a single computer and internet connection is possible at BetOnline. To make sure we're clear here, this is something not at all possible at any other major online poker site.
Player Funds Confiscation Starts
Numerous complaints have made their way to popular forums such as 2+2 and SBR and to leading consumer advocacy websites. The most concerning issue here, is that even if these complaints are coming from scammers, the interactions and screen shots shared of BetOnline customer support interactions strongly hint this company has no experience regulating online poker, and players who use the BetOnline Poker client maybe be at great risk of having their funds confiscated.
Interrogation 101 – BetOnline's Frontline Defense?
For anyone inexperienced with detecting BS, telling someone they've been caught red handed and then giving them a chance to confess is a tactic most of us should be well familiar with. This is used by parents, teachers and principals when interrogating young children. Police investigators and journalists use it, spouses use it when suspecting infidelity, and it's even used to an extent in sports and skill games such as poker. It's a very effective tactic when used correctly because on rare occasions a confession is drawn, but most of the time the benefit comes from gauging a response. BetOnline.com is however not so good at this tactic and it's pretty easy to spot them attempting to use it.
An example comes for a November 1 complaint where BetOnline.com confiscated $11,400 from a player. The highlights of the email exchange can be found here. Notice the first email which questions the player about his relationship to another account is concluded with "please be aware that we keep records for all the hands involved". After the player responds, he receives a reply from JP at BetOnline saying: "As you were told in the previous e-mail, we have records for all the hands involved. The behavior detected is very obvious and has been confirmed before you received the previous e-mail."
No Hand Histories Provided
Using another BetOnline Complaint (<- posted at 2+2) as an example, in this case $65,000 was confiscated from a player. After giving multiple excuses for non payment a BetOnline live chat representative named Chandler alerted the player his account had been flagged for chip dumping. From November 12, 2011 to November 15, 2011 the player sent emails demanding hand histories. He finally received replies which claimed "chip dumping was detected and confirmed" AND shockingly "the complete hand history is too massive for it to be sent. But I will personally send you the hands in which you were found cheating. If that is ok with you.".

BetOnline's inability to process hand histories has become apparent in other cases as well. For the record most every online poker site in the industry immediately releases hand histories to players upon their request in FULL anytime they are requested, especially during a dispute. This was the case in 2001 when our hard drives were 20GB-80GB in size, and it's the case now when some people have terabyte hard drives. No way is his hand history too large to be sent. Additionally a BetOnline representative recently made a conflicting claim where after telling a player "he" (as in this rep) has all the hand histories, has reviewed them and the action is obvious. This same rep later made a response that he was waiting for the security department to provide "him" (as in the same he who already claimed he had them) the hand histories. All evidence strongly suggests BetOnline is fumbling through hand history by hand, and does not have the algorithms other sites use to detect suspicious play, and then the proper software to analyze and investigate properly.
BetOnline Unprepared for Poker Player Traffic
Despite a recent claim to the contrary by their affiliate manager Stephen Freund, BetOnline.com has been very aggressive on the affiliate front attracting new poker players. They advertise on the internets largest poker affiliate forum and the launch of their poker room was heavily touted at all iGaming portals in an attempt to attract affiliates. I point this out to show, BetOnline has spent significant money marketing their poker room. This not the case of a sports betting site with a small online poker site attached, such as 5Dimes offers to their clients. While BetOnline is best known for sports betting, they are most certainly on the map as an option anyone in the US searching for places to play online poker is highly likely to discover.
An issue many poker players have recently reported is that they are being forced to meet a one-time rollover via sports betting prior to cashing out. To me, and this is just my opinion, this hints despite the affiliate department going Gung Ho in their push of BetOnline Poker, management behind BetOnline was not prepared for the fact their sports betting site was soon to become populated by players with no interest in betting sports.
SBR Involvement

SportsbookReview.com (SBR) is a well respected gambling portal that reports on scams and issues related to online sportsbooks. They also assist players who have gripes and believe a sportsbook is cheating them, treating them unfairly, or stalling with cashouts. The good SBR does for the industry cannot possibly be understated. However, SBR has a long history of reporting complaints on their news wire made against all sportsbooks except for the ones they are affiliated with. BetOnline is one their sponsors so there is little chance if BetOnline does cheat a player it will get all that much press. Their forum sbrforum.com is loaded with BetOnline complaints, yet no mention of these has ever been made on their site most used by players to research sportsbooks; that site being www.sportsbookreview.com.
BetOnline Poker is Rogue

BetOnline now operates in such a way it stands to profit from the actions of scammers. Keep in mind there is no other poker site where it is possible for someone with two computers to multi-account from the same internet connection. Also keep in mind there is no other poker network where a player can set up an account at two different skins and then multi-account from a single computer. In addition to this, on the sports betting side (which is integrated) they offer a plethora of sign up bonuses, endless reload bonuses and promotions that all contain rollover requirements. It doesn't take a genius to realize all the various ways a player could use poker to scam BetOnline.
The problem here is BetOnline has shown great evidence their anti-collusion protection mechanisms are archaic and their risk management department lacks competency. It would appear their front line defence against is to call winning players a cheat, speak as they've caught them red handed and the player might either a) realize he is caught and go away, b) trip-up and say something that can be used against him, c) otherwise confess. The BetOnline software and policies are so inviting to cheats that it raises the questions, is this due to lack of experience and ignorance, or was it a well conceived design?
Evidence also suggests that the chances of being colluded against at BetOnline Poker are high and the chances of being compensated for this are low. Perhaps the greater risk is of being wrongfully accused. For example, currently there is a dispute that's been on forums for nearly three weeks where a player had $37,000 confiscated. All that's been confirmed at this point is 53 hands of collusion and a $50.00 chip dump a friend who needed the stake. While perhaps there might be more involved in that particular case, keep in mind there numerous complaints about BetOnline confiscating account balances, totaling a large six-figure amount. Playing here you run the risk that if they find some minor detail on your account they could confiscate your entire account balance.
Should you be wrongfully accused and BetOnline seizes your funds where can you possibly turn? BetOnline is licensed in Panama which in case you're not aware doesn't have much of a gambling commission website and the one they do have is only available in Spanish. Panama provides gambling licenses to only a small handful of gambling sites, I'm not sure how many but their website lists six of which two worldbookie.com and ultimatebet.com are no longer in business. That's bring us down to three others besides BetOnline. This short list includes Legends who is powered by a company that offered rigged casino software, and BetUS which is well known for cheating players.Additionally, this isn't the case of playing at a site where if they cheat a player, or there are concerns, problems etc. it will get posted on the SBR news feed and be exposed. So without the reasonable chance SBR reports fairly and puts BOLs reputation on the line, BetOnline is a high risk gambling site that would be wise to avoid.
If you do decide to bet sports here stick only to sports. Playing a single dollar in their casino or a single hand of poker opens you up to additional risks. As long time defender of BetOnline and a fan of their site, I am sad it came to this, but at this point there was no other choice but to downgrade BetOnline to C- due to the risks of their poker room presents.
UPDATES SINCE ORIGINAL POST
24 November 2011 Update – BetOnline has reversed their decision to confiscated $65,000 from a player. The owner of SportsbookReview.com as well as their General Manager spoke out in their forum stating BetOnline was in the wrong not providing hand histories. The story was added to their news wire and soon later resolved. There are still MANY issues with the poker side of their operation, but with faith now restored that poker issues can be resolved (even if not timely, and with there still being some risk) SportsBettingSites.org has upgraded BetOnline's rating to B-. At such time the poker risks are worked out we will consider them for further upgrade.
Prior to these poker issues coming to light, BetOnline held a B+ rating here. As stated in when this post was first made: "Sports Betting Sites still believes BetOnline is an okay option for sports bettors living in the United States, but at this time strongly advises players to avoid all non sports betting products BetOnline.com offers. This includes their casino and most especially includes their online poker room. " At this time this remains our opinion and advice. Our website is only reports on casino and poker when there are SERIOUS issues with a legit sports betting site (as our focus is sports betting, not casino or poker). This was one of those times where getting involved with a poker issue made sense.
Please do understand – this post was not made to highlight a single complaint and as it serves a strong warning to many issues on the poker side of BetOnline it will be left here unedited. Any future updates will be made below.
16 December 2011 Update – Similar complaints involving BetOnline confiscating poker players balances are now widespread. Although we'd like to give them the benefit as this point it is our opinion this is at best severe incompetence and at worse theft. We have downgraded them to C+ and removed any positive BetOnline reviews from our all of our websites. They have bonuses, at this do pay players with smaller balances, but we can no longer assume cash grabs and cheating won't occur in the future. We consider them a step above scam, but C+ is the highest we can rate them and cannot recommend their company while acting in good faith.
10 September 2012 Update – BetOnline rating has been adjusted to B-. The noise on forums has died down and most of the occasional disputes have been resolved.
13 September 2012 Update – After moving BetOnline's rating from C+ to B- a few days ago CalvinAyre.com reported on BetOnline ownership history which we're more than familiar with. The New York family bit relates to the old story Joe Jr. (Joseph J. Fafone) who is the son of known crime family associate Boca Joe started BestLineSports in 2011 and it became BetOnline in 2007. This is back when BetOnline was a A-/B+ type book. There's nothing really new in this article, all that was considered when moving them to B-, as were some old 2008/2009 complaints they recently settled. BetOnline takes large bets, has soft openers and is worth the risk for some players. B- is respectable, but there's plenty of better options, and the rating reflects this.