www.bovada.lv is our Spring 2021 featured US betting site. Exclusive to the US market they accept players from 45 US states – excluding only Delaware, Maryland, Nevada, New Jersey and New York for legal reasons. With a history dating back to 1994 they have a great track record. You can bet matches both in play and also do live betting while watching games on TV. New players are welcomed with a 50% up to $250 initial deposit match in the form of free play credits. Bovada accepts US credit and debit card as well as bitcoin.
Betting Online From the United States
This article is a detailed guide to betting online from the United States. It is recommended you read it in full prior to depositing with any online sportsbook. I start with covering recommendations as well as US betting sites to avoid. I then progress to the laws, deposit options and cover the many risks. It is important to understand all US sportsbooks operate in locations they are not legally accessible. This means they are unregulated and players have limited to no recourse in disputes. That said, with certain sites problems are quite rare.
Recommended Sportsbooks
The websites to the left are my (Prop's) honest opinion of which sites are the safest to use. While I am an affiliate for most books listed on this website, advertising cannot be purchased. Topbet, BetMania, and others have contacted SBS willing to pay for referrals. These positions are sincere recommendations. Neither the order of listings nor which books are listed is financially negotiable. SBS is not for sale. You can learn a bit about me (Prop) and how I take recommendations seriously on the SBS Ratings Guide.
With the 2021 basketball and baseball seasons underway, many bettors are turning to Google for finding online sportsbooks to bet with. Understand, this is not ideal. There are a high number of scam sites on the internet that should be avoided, and you won't find notes about them in the Google results. One example is Dimeline.eu. This is practically a deposit only sportsbook that has multiple unprocessed payouts that date back several years. Meanwhile, in December 2013 once reputable site Canbet.com ceased operations while multiple weeks late on payouts. December is a familiar month for this. The year prior, in December 2012, BetIslands closed owing players over $1.5 million. This site was heavily marketed by self-proclaimed "industry watchdog" SportsBookReview/SBRForum collectively known as SBR. They provided no notice of the collapse. SBR downgraded them from super reputable and touted with a B rating to a no-pay scam rating of F in a single day. These are only a few of MANY examples.
You need to understand most every sports betting information site on the web cannot be trusted. These sites sell advertisements to sportsbooks. Who they recommended is often determined by which site pays the most. If you read our reviews of WagerWeb, EZStreetSports and Oddsmaker you'll see examples of sites that while not outright scams should not be trusted. Of course, you'll find these sportsbooks advertised all over the web because they spend money sponsoring betting forums and pay affiliates well.
At SBS we pride ourselves on providing honest sports betting information. The betting sites recommended on this page have many pros and some cons. This is all explained lower in this article. These options are simply the ones we feel are safest in the unregulated market that US sports bettors are forced to deal with when betting online. Again, I strongly encourage you to read every word of this article – a complete guide to US betting sites – prior to depositing with any internet sportsbook.
Is Betting Online Legal
While there are no federal laws prohibiting sports betting there are laws that make operating a US sportsbook a crime. This means at the federal level no crime is committed if you log on to say www.bovada.lv and place a sports bet. However the US Department of Justice (DOJ) considers Bovada an illegal gambling operation and therefore treats them (not their users) as criminal.
Also, banking restrictions included in the SAFE Port Act of 2006 makes it illegal for banks and credit card companies to process online gambling payments. What our competitors won't tell you is if you use your credit or debit card at an online sportsbook your credit card company or bank might close your account. If they do, it will not be an isolated incident; sports betting forums contain posts of US players reporting their bank account was closed for cited reason: online gambling / non-desirable customer. As I'll explain shortly, this is the reason most of America's 51.9 million sports bettors use Person to Person (P2P) for deposits (this is taking cash to the local super market to do a WU or MG transfer).
Now there are states where online gambling is a crime. You can read our pages on Maryland Gambling Laws and Washington State Gambling Laws for more on that. If you live in either of those states you'll have tough time finding a betting site to accept your action. Also players from New York and Utah can join most betting sites but will need to use P2P for deposits. Those living in most other states will have no issue and can bet at online sportsbooks such as www.bookmaker.eu. We also have a page on Kentucky Gambling Laws.
Remember, in most all US states, online betting at the consumer level is NOT a crime. The betting sites themselves are mostly located in Costa Rica, Kahnawake, Antigua, and Panama which are all locations that are outside US jurisdiction and are also locations where sport betting is fully legal. The only challenges bettors in most states have are banking restrictions, and finding reputable US betting sites.
What's up with the .eu, .cx, .lv, and .ag Domain Names?
As I mentioned, betting sports online is NOT illegal in most states. It is however illegal to operate a US Sportsbook. Considering all the online sportsbooks servicing the US are located outside US jurisdiction they're not at risk. However .com domains are issued by a US company incorporated in California. It is rather easy for US law enforcement to seize .com domains. In fact, be very careful depositing at any betting site that uses a .com domain as chances are great that betting site is a scam. Reputable US sportsbooks all use alternative extensions including .eu, .ag, .cx, and .lv.
The US Market is Unregulated
The most reputable gambling sites are publicly traded companies licensed by proper gambling commissions. However, none of those reputable sites accept US players for legal reasons. The three listed earlier in this article are legitimate. There is however little to no dispute resolution available.
If you past post (bet a game after it started), bet obvious line errors, break some sites terms and conditions, or simply upset them by having it out with a support rep, there is no recourse if they simply decide to confiscate your balance. A lot of US players trouble to cope with the fact they have little to no recourse in disputes. This is a fact it would be wise to understand early. If you care about your money, NEVER angle shoot or intentionally upset a US sportsbook while they are holding your funds.
Again, the US betting sites recommended on this page are considered reputable but the odd disputes do occur with almost every sportsbook. For well over 99% of the players using these books there is never an issue and payouts come fine. Do cash out often and keep your bankroll under control regardless.
How to Deposit at Online Sportsbooks
The majority of sportsbook review portals are operated by affiliates whose only concern is making a commission when you click one of their links and make a deposit. Likewise, their goal is to advertise online betting sites that pay high commissions and have the best credit and debit card acceptance rates. The unfortunate truth is the more reputable a site is the less convenient it is to deposit. Due to credit cards and banks being very sketchy over online gambling – P2P cash transfer is HIGHLY advised.
P2P Cash Transfer Explained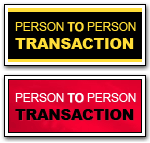 Person to Person (P2P) Transfer is a deposit method that most often involves taking cash to your local supermarket or Wal-Mart to make a deposit. Two of the best known P2P companies in the world are Western Union and MoneyGram. Because these companies don't like their names tossed around with online betting, and because there are a few competitors, in this article we'll stick to the term P2P when referencing this method.
P2P is a great way to deposit money to online betting sites. This of course sounds odd and unnatural to most Americans as we usually associate P2P transfers with Nigerian 411s or other types of scams. In betting however, this is not the case. The most reputable online sportsbooks prefer P2P deposits, and will even pick up the transfer fee if you deposit over a certain amount (usually $300+ but in some cases $250+ or $500+). How this works is if you P2P transfer a $300 deposit and there is a $21.00 fee to do so, your starting balance will be $321.
A few P2P tips
To deposit with P2P you'll need to contact the online sportsbook asking for details on who to send to. After sending you need to contact them again with the transaction ID # (often called a control number) and the amount sent. They'll then add the transferred deposit to your account in a short time frame, usually less than 45 minutes.
www.bookmaker.eu has live website chat. This makes it easier to get the details of who to send the money to and to report P2P transfers. You can do so online without picking up the phone at their site.
Not all sportsbooks advertise the fact they cover the P2P fees. It is important to ask about this prior to sending your deposit.
Most P2Ps offer online accounts, which usually take a couple days to set up. Once you're set up you can make P2P cash transfers online using your credit card, debit card, or even bank account.
The best reason to use P2P to deposit is that when using this method most sites will also issue payouts back to you via this method as well. When you deposit with credit card, to then cash out you'll have to go through all sorts of hassles of faxing in your ID, utility bill, copy of card etc. There's also hold periods and many sites will only pay credit card depositors via check – which is a pain as they take a while to arrive and then must be deposited. The deposited checks can take a while to clear because they're usually from a Non-US bank. Therefore using P2P for deposits and P2P for payouts is most ideal.
All Other Methods
Understand credit card is not a horrible method to deposit. You can attempt to deposit with this method at most online sportsbooks. There is however a risk that your bank (if it is a debit card) or credit card company (if it is a credit card) might close your account. It's not hard for them to track down the card is being used for online gambling. With only a small number of transactions the risks might be low – however when making many deposits you are better off using P2P.
E-checks are scams – Please understand no reputable US friendly betting sites accept e-check. You might be able to find sites such as Oddsmaker.ag or SBG Global willing to accept them, but click any of those links to read my write ups so you can better understand these sites sometimes scam/stiff winners.
Top US Sportsbooks
There are some 700 online sportsbooks on the market and most all are NOT reputable. Many sports betting sites, as in those that review sportsbooks, will recommended whatever websites pays them the highest affiliate rate. The problem here is shady sites depend more on affiliates than reputable ones and therefore pay much higher. So what you will find marketed at review portals is mostly problematic sites.
The websites below are listed in order of which I view are best for those new to sports betting online. If the section with complaints or player vs. sportsbook disputes sounds rough, note that it is then obvious you are not well oriented with the US market. For most every other betting sites I know of servicing the US an entire page is needed to cover their issues and risks. These below are my sincere best picks. The reviews are simply honest and chances are over 99% that you will not have a problem using any of these three sites.
#1 is Bovada
www.bovada.lv is the most popular sports betting site servicing the US market. Players opening an account here are welcomed with a 50% up to $250 initial deposit match bonus paid as free play credits. This is one of the few gambling sites it is possible to deposit with VISA debit or credit cards issued from a US bank.
The reason they are rated #1 on this page is because they have what most readers first searching for a US sportsbook are looking for. The fact is: a single time using your credit card here to get started likely won't run you into the risks mentioned earlier when I suggested P2P is better than using credit card. They also have a nice sign-up bonus which is a huge plus for beginners. This is a good book to start off with. They support all the features recreational players are interested in. Their website is accessible on both desktop clients as well as mobile phones. Here you'll find betting odds on all sports from around the world, and they even have in-play live betting for US sports.
If you enjoy other gambling products Bovada has much on offer here as well. Their poker room is on the same network as popular Asian bookie Bodog88. This site brings tons of players from Asia that have little to no poker experience to the online tables. As a result the poker games at Bovada are most often softer than can be found elsewhere online. Bovada also has a casino with generous bonuses and promotions, and a racebook that pays up to 10% win or lose rebates on turnover. You can learn about their impressive history in our Bovada review.
Restricted States: Bovada does not accept players from Delaware, Maryland, Nevada, New Jersey and New York.
Bovada Complaints: The most common complaint with Bovada is they are slow to post lines. For some markets you won't find a betting line until hours before the game. They also often do not offer moneyline bets on very small point spreads (-3/+3 and lower in football) or on very high point spreads. This is because Bovada mostly services recreational players and wishes to keep the professional players at bay. This brings another common complaint of low betting limits. The bottom line is that Bovada is a decent site for recreational players betting up to a few hundred per game. Other than MANY spots to pick off extra small money, they do not offer enough to attract large sharp bettors.
Player vs. Bovada Disputes: One of the things I like about Bovada is they have reps all over the internet. When small disputes come up they are quick to get them handled. There were periods in mid-2008 and in late-2011 that Bovada payouts were delayed. These have long since been resolved and checks are coming in about a week. Going back several years ago, there were live betting disputes too when they were still known as Bodog. While I'm not sure those were all properly resolved they were all many years ago and I have not read of any recent occurrences. Ultimately due to their strong presence on forums serious Bovada disputes are quite rare.
#2 is Bookmaker.eu
For most players, the entire selling point of

www.bookmaker.eu is trust. Their history dates back to the Ron Sacco betting operation started in 1970's. In 1985 this was the largest betting operation in the world. Sacco was arrested and jailed twice over bookmaking. It was after his parole ended the second time that (in 1985) he moved his business to the Dominican Republic and started marketing a toll free 1-800# sportsbooks to the United States. He was first to do this, and countless others followed in his footsteps.
The call center company became BetCRIS. Later, its US version became Bookmaker.com, then Bookmaker.eu. During this time Sacco was arrested 2 more times. He eventually retired and the .com domain was seized by the DOJ. Through all of this, Bookmaker has remained the world's leader for betting on American sports.
Bookmaker has the highest betting limits, does not give winners personal limit collars, and always pays. Simply put, www.bookmaker.eu is the most trusted sportsbook servicing the US market and goes to great lengths to pay winners timely. As for the legal stuff, Ron Sacco was jailed 4 times, fought those charges, appealed them, never hid and always paid his US taxes. This company has been a great service to the industry and many consider this the safest sportsbook to have money stored with.
Restricted States: Bookmaker.eu now accepts players from all 50 states.
Bookmaker Complaints: Understand Bookmaker is one of the first sites to post lines and has the largest betting limits of all US sportsbooks. They do not offer reduced juice nor do they even offer a baseball dimeline. Better odds can often be found at their competitors; however, these competitors are risky. Bookmaker has a perfect track record for payouts and is one of the best at dispute resolution. You however won't find much reduced juice or large bonuses here. The one other complaint is the large fee for wire transfer and check payouts. This is a moot point if getting a debit card which lets you withdrawal your Bookmaker payout at an ATM for only a few dollars in fees.
Player vs. Bookmaker Disputes: There are not too many of these appearing on forums. Other than a couple rare alleged past post issues, the only semi-common dispute that comes with Bookmaker involves their BetPoints loyalty program. These points are awarded based on turnover and can be redeemed for cash. The issue that comes up is Bookmaker often discontinues the program for professional players and in doing so confiscates their points. If this happens you should speak to a manager and insist you are credited cash to your balance for the value of points you had prior to becoming ineligible. If they don't agree make it public on a sports betting forum. These are sincerely the only disputes I am aware of involving Bookmaker.
Other US Sportsbooks
A final note to US players: for those who understand the risks, a lot of value can be had taking advantage of bonus offers from other sportsbooks not making the above list. The same is true for hitting these up when they have soft lines. Most all books (those rated D and F excluded) might be worth hitting up so long as you understand the risks in doing so. Taking bonuses at books we have rated C+ or higher is often smart even for recreational players. The majority of the time you will get paid without issue. If you do enough dancing where there is some fire, on occasion you might get some small burns. However, all the times you get away with easy money from these books will make it worth it for most. For possible other books to try see our sportsbook ratings. Be advised though we can do very little to help if you have a dispute with a low rated book. We warned you in advance of the risk.